Minutes ago at WWDC, Apple revealed a completely redesigned MacBook Pro. The device's chassis contains very few ports. It's very thin, about as thin as a MacBook Air, and weighs under 4.5 lbs. The MacBook Pro looks almost iPad-inspired. And just like the new iPad, Apple's new MacBook Pro features a Retina display.
The 15″ Macbook Pro boasts a display resolution of 2880×1800, double the horizontal and vertical resolution of the previous MacBook Pro. The pixel density isn't as high as the iPhone 4S or the current iPad, at 220 ppi, but it is the highest-resolution display that I've heard of on a notebook computer.
Apple claims that a pixel density of 220 pixels per inch on a laptop computer makes the individual pixels sharper than the human eye can resolve. I'm not so sure about that, but I have good eyes and lean way too far into my laptops.
Of course, something has to be powering this monstrous display. Apple's next generation MacBook Pro will be using nVidia's GeForce GT 650M chipset, which looks to be a powerful, if midrange GPU. The GPU will be paired with a quad-core Intel i7 processor running at 2.7GHz, and can Turbo Boost to a facemelting 3.7GHz. The new MacBook Pro will support up to 16GB of RAM clocked at 1600MHz. As for the harddrive, Apple seems to be going with flash memory: a SSD sized up to a respectable 768GB.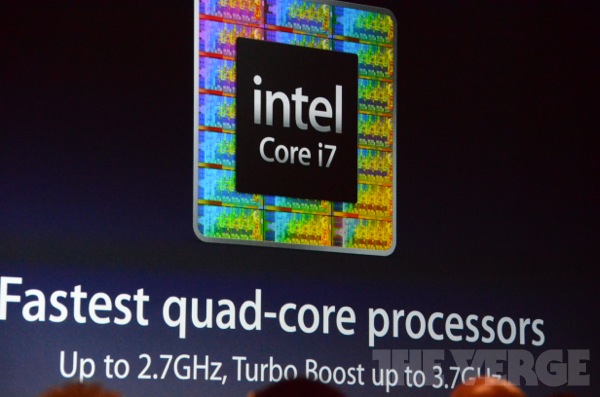 As for the battery life on this beast? Apple's promising "up to 7 hours," of use, 30 days of standby time.
The entry level MacBook Pro with Retina display will feature a 2.3GHz quad-core i7 processor, 8GB of ram, and a 256GB solid state hard drive for $2199. Other features include a backlit keyboard, bluetooth 4.0, and two thunderbolt ports.
On top of everything else, the new MacBook Pro will apparently be highly recyclable; With mercury free glass, and no BFR, PVC, or arsenic.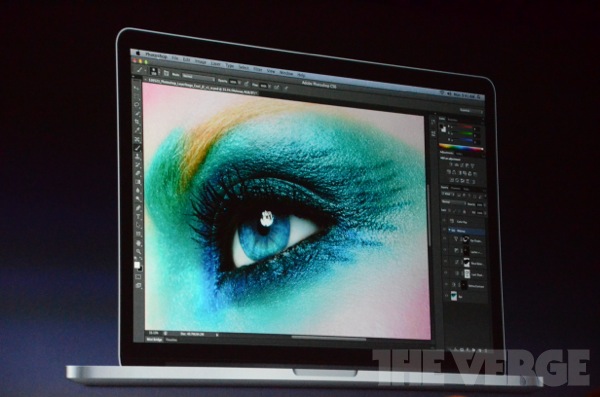 Apple seems to have announced the perfect MacBook. Thinner, more powerful, higher resolution, and practically safe enough to eat. If this hadn't been an official announcement, I wouldn't believe it myself (and I didn't). When it comes time to upgrade your computer, will you be getting the newly redesigned MacBook Pro? Share your thoughts in the comments section below.