Apple released OS X Mountain Lion, its latest Mac operating system, to the public yesterday. Earlier this year at WWDC 2012, Apple announced a new feature in OS X Mountain Lion called PowerNap. This nifty feature lets your MacBook update itself while in a state of sleep.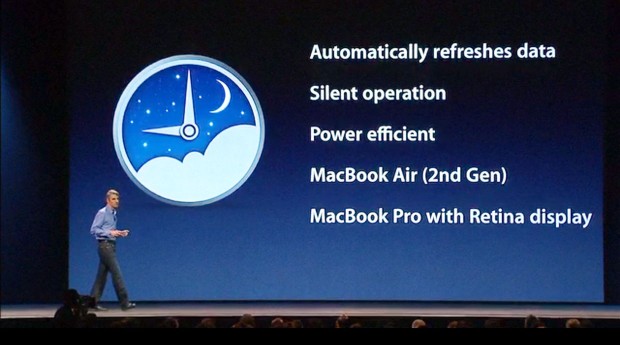 With PowerNap, your MacBook Air and the new Retina MacBook Pro will automatically update softwares, your email, notes, reminders, Photo Stream and even take a backup. It does all that, and more, without even being on. The fans, lights and everything is silent and you won't hear a thing. We often charge our laptops when going to bed, and PowerNap will make sure that everything is up to date when you get back to work . Also, the following MacBooks are supported, ones without an SSD don't support PowerNap yet. Furthermore, this is only available on OS X 10.8 Mountain Lion.
MacBook Air (11-inch, Mid 2011)
MacBook Air (11-inch, Mid 2012)
MacBook Air (13-inch, Mid 2011)
MacBook Air (13-inch, Mid 2012)
MacBook Pro (Retina, Mid 2012)
The firmware updates for MacBook Air 2011 models are now available and enable PowerNap. The Retina MacBook Pro will also get this update soon. Learn more here.
Download MacBook Air SMC Update v1.6 [2011]