With the Mac Pro being released the folks over at iFixit have finally given it the teardown treatment to take a peek at its internal components and of course to determine its repairability score.
Let's start from the beginning shall we?
The new Mac Pro's cylindrical casing is easily removed by simply toggling the rear lock switch. After it is removed you have easy access to all of the Mac Pro's components like memory modules, SSD drives and more. To make matters better Apple utilized non-proprietary Torx screws which are found throughout some parts of the machine as well. The CPU is also removable which will allow for power users to upgrade it at any point.
It was found that the Mac Pro's power supply, located between the I/O panel and the logic board, is 450 Watts. It, along with the rest of the computers components are cooled using a single fan cooling system in the Mac Pro to keep a low temperature. This along with the triangular heat sink that cools the graphics card and GPU, allows the Mac Pro to idle at a quiet 12 dBA.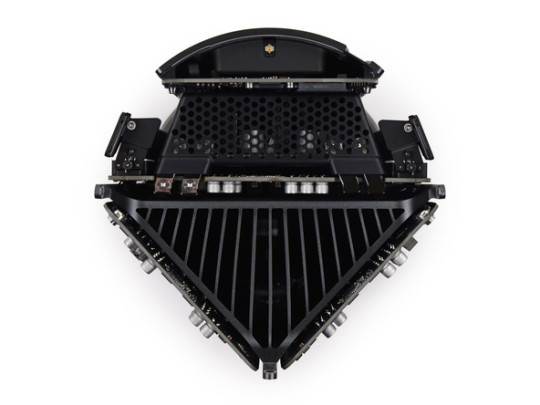 The only downside in terms of repairability in the Mac Pro is that the logic board, dual graphics cards, and I/O port board are connected to a single daughterboard, or interconnect board, found at the base of the machine which appears to use a tight cable routing system and various new proprietary connectors.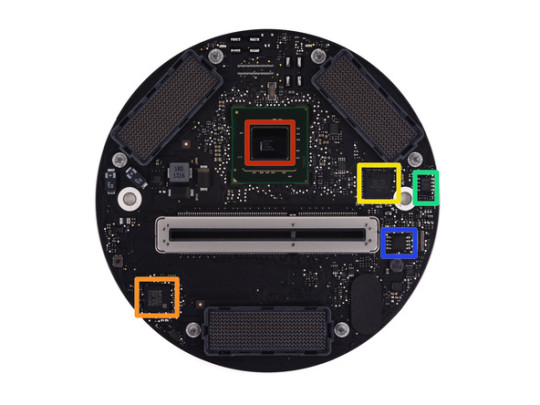 Due to the accessibility of all the Mac Pro's components, however, iFixit gave the desktop computer a score of 8 out of 10. Although they disliked the inability to add additional internal storage and the tight cable routing system in some places they credited the Mac Pro on utilizing non-proprietary Torx screws, an easily accessible case, and a user replaceable CPU.