Over the weekend we reported on a job posting on Apple's website looking for a Canadian music programmer to get iTunes Radio ready for launch in Canada. With this posting we felt it was safe to say that iTunes Radio would be coming to Canada within the next few months and sure enough now Bloomberg has chimed in on the matter.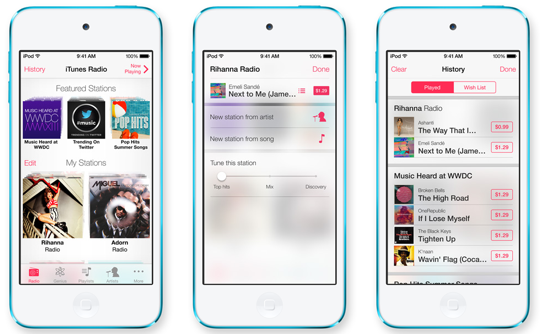 According to sources familiar with the matter (a popular source I know) Apple is working to rollout iTunes Radio to the UK, Canada and other countries by early 2014. It has apparently already acquired the necessary licenses from labels to take its service international next year.
Apple Inc. (AAPL) plans to expand iTunes Radio to English-speaking countries outside the U.S. by early 2014, beating industry leader Pandora Media Inc. (P) to the U.K. and Canada, people with knowledge of the situation said.

Apple is moving faster than Pandora because it forged agreements for international rights with Vivendi SA (VIV)'s Universal Music Group and other record companies, said one of the people. Pandora, which hasn't struck similar deals, relies on rights granted by government entities, limiting service to the U.S., Australia and New Zealand.
Besides the UK and Canada, it was also stated that Apple is hoping to also launch iTunes Radio in Australia, New Zealand and various Nordic countries in early 2014. By 2015 the Fruit Company hopes to be in 100 countries with iTunes Radio.
Right now of course iTunes Radio is limited to only the US and was rumored to have 11 million users logging into the service within the first 5 days of its launch last month. Which isn't bad statistics considering it was limited to the US.