As part of Apple's big press event extravaganza today, they didn't just announce the big stuff like the iPhone 5 and iOS 6. They also unveiled updates to their iPod lineup; the new iPod Nano was shown off, and looks like it will offer a marked improvement over the previous generation of Nano.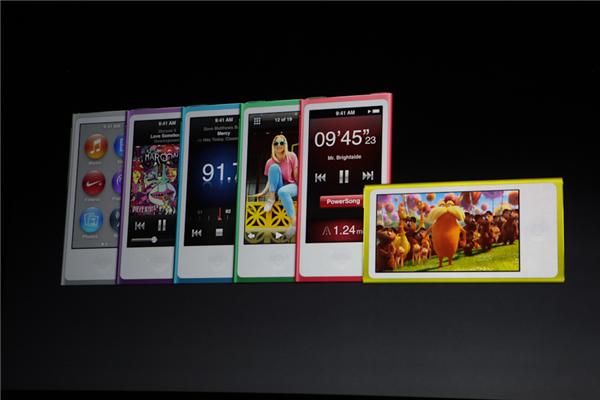 The new Nano will be sporting a 2.5-inch multitouch display, and will be capable of playing widescreen video on it. Video playback support was conspicuously absent from the last generation of Nano, so this is a nice thing to see included once again. In addition to the pint-sized touchscreen, it will also have a few hardware buttons for controlling playback, including a new iPhone-esque home button underneath the screen.
It will also be 38% thinner than the previous model, at just 5.4mm thick. The wafer-thin aluminum body will come in 7 different colours, though the front face is white on all of them except the black one, which has a matching black face. Packed into the new shell will be a bunch of new features, including Bluetooth, a pedometer, the new 'Lightning' 9-pin connector, and a battery with more life than the previous generation.
All things considered, it's not too shabby of an update for the iPod Nano. The 6th-generation Nanos were not very well received, and it looks like Apple has taken some of the criticism to heart. Little things like the hardware controls and super-thinness will make it much better at what most people use it for, making it a significant improvement over previous iterations. The new iPod Nanos will be available for $149 with a storage capacity of 16GB.