As the Xmas season comes to a close, well not quite, three more days till the twelve are up, iOS is dominating the market. In the mobile phone world, the two big players are iOS and Android. During the festive season, the iPhone sold like crazy in AT&T's retail stores. According to a source inside AT&T, they tipped 'The Mac Observer' off that these stores sold a massive amount of 981,000 iPhones during December 1st to the 27th. During that time, the iPhone sold 66% of all phone sales, whilst the others, big time. Here's a pie graph of the sales.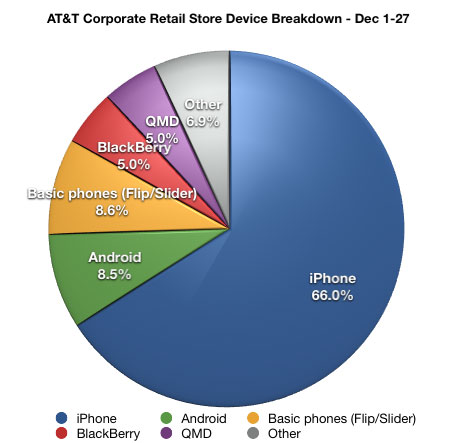 As you can see, iOS completely thumped the market, which pretty much means, Android and all the others lost out on this one. It seems to me, that every third person owns a iPhone. Under my tree at Christmas, there were a whole lot of phones, mainly all sliders.
Did you receive or gift a iPhone this Christmas?
[Via MacObserver]