Every once in a while, Apple updates its iOS usage chart to tell us what percentage of devices are running the latest iOS version. Following a 7-day testing period that ended on March 23rd , Apple has updated the chart to show that 85 percent of iPhone, iPod Touch and iPad devices now run various versions of iOS 7.
Apple released iOS 7 on September 18th, 2013 and the adoption rate hit 75 percent sometime in December. It is obvious that since it's been over 6 months after Apple released iOS 7, that the adoption rate would slow down. It took about 3 months for Apple to get 10 percent more users on iOS 7. There are many other reasons as well, such as the fact that some people don't like the new UI in iOS 7 or that the latest version of iOS 7 isn't jailbreak friendly. Check out the iOS adoption chart below: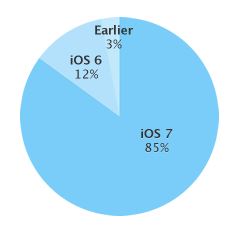 According to the chart, about 12 percent of Apple devices are still running on iOS 6 and 3 percent on iOS 5 or earlier. This isn't bad at all. If you compare the iOS adoption rate to that of Android, just 2.5 percent of Android users are on the latest version of KitKat. Go check out the Android distribution chart here.
What do you think of this? Is your Apple device on the latest version of iOS 7?