Chitika is an search-target advertising firm that also conducts market research. According to ad impressions collected by the company, over 60% of iPhones, iPads, and iPod Touches were using the latest operating system, iOS 6 within the first month. What's more startling is that the adoption rate hit 50% within the first two weeks of iOS 6′s release.
On the other hand, the adoption rate seems to be leveling out; not rising dramatically above 60%. My guess is this could be largely from customers who continue to user older, unsupported devices like the iPhone 3G, as well as users who aren't willing to switch over from iOS 5.1 due to software unlocks or (for users like me) lack of a public jailbreak. Chitika suspects that the number of active devices on iOS 6 could jump to 70% with the release of the iPad Mini, expected to be announced tomorrow.
iOS has been very effective at keeping its users up to date with updates through iTunes, over the air updates, and compatibility for four generations of devices. iOS' competitor, Android, has a lower adoption rate for new OSes. Jelly Bean 4.1.1 was released on July 9th, and as of October 1st it's currently at 1.8% distribution, according to numbers from the Google Play marketplace. Granted, it's not an entirely fair comparison because of the range of hardware running older versions of Android–and the number of users running devices that (officially) rely on manufacturers and carriers to adapt updates to their devices (all non-nexus phones and tablets), when there isn't an economic incentive for them to do so.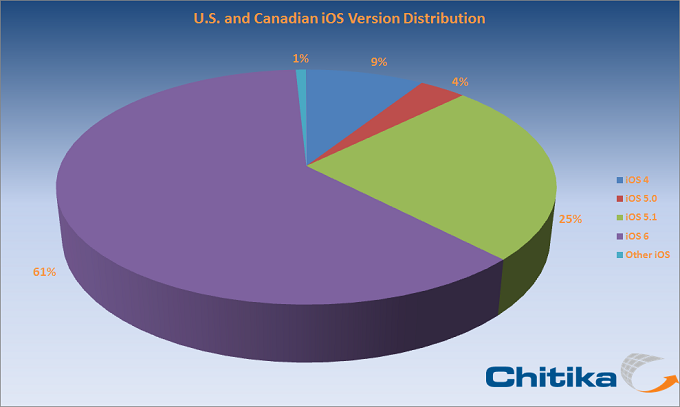 All in all, Apple's been very effective at keeping current model iPhones up to date. Now if only they'd allow end users to have control over their own phones so we wouldn't have a reason to hold off on updates.
Why do you think so many users updated to iOS 6? Share your thoughts in the comments section below.