Out of nowhere and on a Saturday, Apple has gone ahead and released a new iOS 6.1 beta to developers. The iOS 6.1 beta 5 was released just hours before the 4th beta was about to expire. A lot of developers were expecting Apple to release iOS 6.1 GM by now, so this release is actually quite a weird one.
Apple doesn't usually seed a 5th beta for a smaller iOS update, so this is disappointing as it will surely delay the release of iOS 6.1 jailbreak. Jailbreakers are only waiting for Apple to push the public iOS 6.1 update so they can release the jailbreak for iPhone 5. However, hackers and important jailbreak personalities have noted on Twitter that iOS 6.1 beta 5 could actually be released as a public version. Here's what I0n1c, winocm and MuscleNerd had this to say: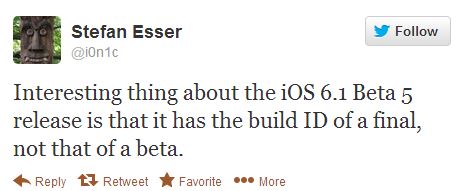 Apparently, the iOS 6.1 beta 5 firmware doesn't carry the usual build ID of a beta, instead it has the build ID of a final release. Could it be that Apple is purposely delaying the release of iOS 6.1 because it knows that a jailbreak is ready to pounce?
Developer Winocm also tweeted something interesting about the iOS 6.1 beta 5 release. It activates without a developer ID, which is pretty weird, furthermore it also has no ReleaseType Lockdown keys within the build. MuscleNerd also confirms that Apple could have actually released this beta as a public version, but chose not to.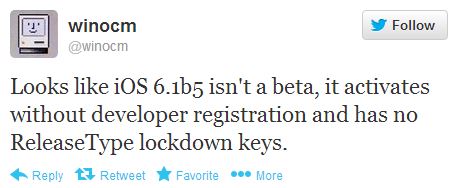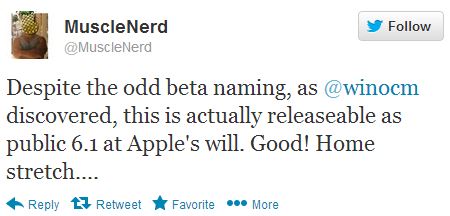 Perhaps Apple will release iOS 6.1 to the public without releasing a GM first. It wouldn't be the first time, as the company has done something like this before. If you're a developer, download the latest beta and try it out. We're not sure when iOS 6.1 beta 5 is set to expire. Maybe it is the GM we've been waiting for, but Apple doesn't want us to know.