The iOS 6.1.3 beta 2 firmware was released today to developers. For those of you who didn't catch my last article, the iOS 6.1.3 beta 2 firmware is essentially the second iteration of the iOS 6.1.1 beta 1 firmware, but obviously it had to be renamed because Apple already released iOS 6.1.1 for the iPhone 4S and iOS 6.1.2 for all iOS devices.
iH8Sn0w tweeted today that with iOS 6.1.3 beta 2, beta timers come back and that the firmware expires on April 22nd at 12:00 am (GMT). Apple implemented expiry timers on beta firmwares to ensure developers who update to one of the beta firmwares either upgrade to the next beta or the official firmware when it is released. If you do no upgrade to the next firmware version in time your device will be placed in Recovery Mode.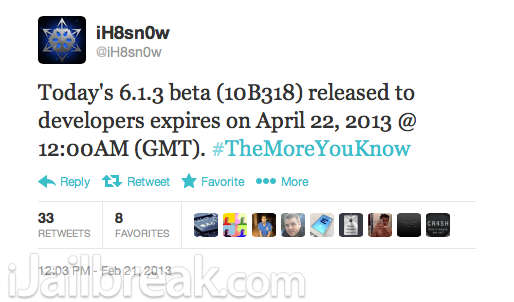 Pushing the expiry timer back all the way to April likely suggests that iOS 6.1.3 will be released sometime in March. It is hard to say however, as expiry timers are not the best way to predict the launch of new firmware versions, as we have learned.
Do you think Apple will release iOS 6.1.3 in March? Drop us a line in the comments section below.