According to Instagram's blog, their user base is now at 80 million registered users with a library of over 4 billion photos. Along with yesterday's announcement was a seemingly minor update to the Instagram App.
The iTunes page for the newly released version of Instagram, 2.5.1, describes the update as including bug fixes and Flickr authentication support. But there is another change in the new version of Instagram: loss of support for finding friends through Twitter. If you attempt to find friends from Twitter through Instagram, a dialog will pop up saying that "Twitter no longer allows its users to access this information via the Twitter API. We apologize for any inconvenience."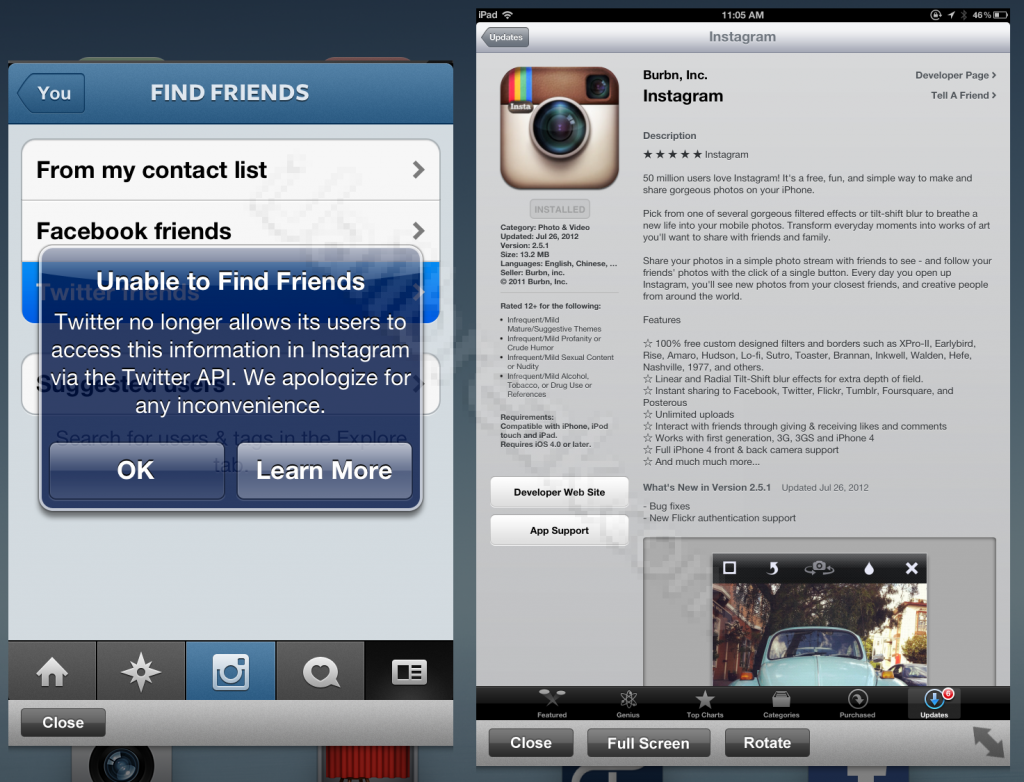 Although the dialog says that Twitter no longer allows users to access Find My Friends through Twitter's Friend Graph API, the previous version still continues to have full working access to this feature. If Twitter is shutting the access off, it seems odd that this was implemented on Instagram's end.
Techcrunch speculates that Twitter dropped their Friend Graph API support from the hugely popular photo sharing to hurt Facebook – the company that owns Instagram. I'm not sure if limiting a photosharing service would achieve this. What it would do, since it would be more of a hassle to import Twitter friends on Instagram, is push more people to sharing their Instagram photos on Twitter and commenting on the photos there, instead of on Instagram. Sharing Instagram's photos to Twitter still works.
If Twitter's goal is to put a dent in Facebook, I worry that the Instagram restriction would make users more reliant on Facebook for connecting to friends. If the easiest way to be added on Instagram is to already be friends on Facebook, and if Twitter isn't an option, then more holdouts may be pushed into being on Facebook.
Do you think the restriction benefits Twitter or Facebook? Does it hurt Instagram's users, or does it not have an effect on them at all? Share your thoughts in the comments section below.