Innergie PocketCell Is A Portable USB Power Source
We have so many different devices, from tablets, laptops, GPS, phones, Apple iPods and more, which all run off a battery charge. Keeping them powered when we want to use them can be a difficult task especially if we are heavy users. Well the people over at Innergie have come up with a solution. Dubbed the PocketCell, it is a small portable USB battery pack. It has a 3,000 mAH capacity, mini/micro USB connector built into their Magic Cable which also sports Apple's 30-pin adapter.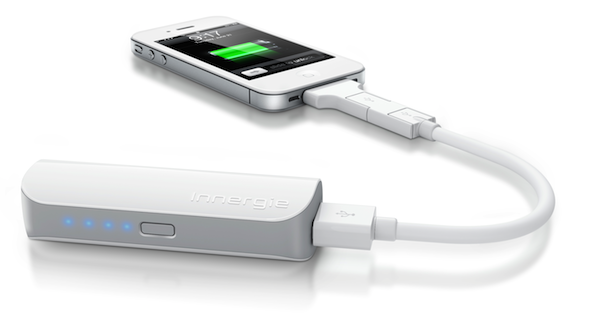 The little battery pack has five built in protections against unstable voltage, so no need to worry about burning out in your hand or pocket. Innergie claim that on a full charge, this can add another 4.5 hours to your iPad usage or about 15 more hours of talk time for your cellular device.
The official press release can be read right below:
Innergie Introduces Lightweight and Compact PocketCell™ Providing
Extended Power and Charging for Portable Consumer Electronic Devices

Rechargeable Battery Bank Provides Portable Power and Charging Capability for iPads, iPhones and Android Smartphones, iPods and MP3 Players, and over 10, 000 Portable Devices

Las Vegas, NV – January 10, 2012 — (LVCC South Hall 1 Lower Level / Booth 21906) — With the increasing number of consumer mobile devices that we all carry comes the familiar and often experienced low battery warnings of these devices when they are extensively used. Unfortunately, this usually occurs at the most inconvenient time; during a critical phone conversation, writing an important email, or in the middle of enjoying a movie on a tablet in a plane at 35,000 feet. Whatever the situation running out of power for portable devices typically occurs at a time when AC power is nowhere to be found. Innergie, the world's leading provider of innovative consumer power solutions, is introducing PocketCell™, a portable power solution that will provide consumers the power needed wherever life takes them – on foot, in the car, on a plane or a train.

PocketCell is a lightweight and compact rechargeable battery bank that will add hours of life or charge virtually any mobile device including iPads, iPhones, Android, and Blackberry smartphones, iPods, media players, and more than 10,000 other portable devices. PocketCell is designed to provide consumers extended power or charging capability when battery power is exhausted or typical power sources are not available. With a stylish design about the size of lipstick holder and weighing a mere 2.8 ounces, PocketCell is a mobile accessory that portable people cannot afford to be without.

"PocketCell answers the needs of consumers who rely on their portable USB devices to stay connected with work, colleagues, family, friends, and the world," explains Tom Atkinson, Senior Director of Americas at Innergie. "Consumers are constantly concerned about losing that connection when their portable devices run low on power. PocketCell fits easily in a customer's pocket and provides peace of mind customers can trust to deliver extended use or charging for their portable devices when and where they need it most."

The Innergie PocketCell is a 3000mAh, rechargeable portable battery bank with a fast charging 2.1 Amp USB power port and includes the recently announced Magic Cable Trio 3-in-1 charging cable with integrated smart-tip Apple, Micro, and Mini USB connector design (a $20 retail value). Customers can connect the PocketCell from its standard USB connector to nearly any portable device using the Magic Cable Trio for extended use or charging capability.

–more–
–2–

Recharging the PocketCell is simple. Customers connect the Magic Cable Trio Micro USB tip to the Micro USB charging port on the PocketCell and then connect the Magic Cable Trio standard USB connector to a USB power port on a laptop or computer, or a USB power adapter such as the Innergie mMini AC 15 power adapter or mMini DC10 car adapter. The Innergie PocketCell provides an industry-leading five built-in protections to ensure proper reliability and compatibility with over 10,000 portable devices, giving consumers the confidence to charge nearly any portable device with less power loss, cooler operation, and less impact on the battery life of portable devices. In addition, the Innergie PocketCell will automatically revert to Sleep Mode if not used after 10 seconds saving portable power capacity

Extended Power (based on actual device use and internal testing at Innergie)
iPad Up to 4.5 hours of use
iPhone, Android and Blackberry smartphones Up to 25+ hours of talk time
iPod and MP3 Players Up to 100 hours of playback time
Game Console Up to 10+ hours of playing time

General Specifications
DC Input 5V DC / 1.5A (max)
USB Output 5V DC / 2.1A
Battery Type Lithium Ion
Power Capacity http://cms.aol.com/21/content/posts/edit/20141492/3000 mAh
Dimensions 3.6 (L) x 1.2 (W) x 0.8 (H) inches
Weight 2.5 ounces (excluding cables and accessories)
Built-in Protection OCP, OVP, OTP, OPP, SCP

The Innergie PocketCell rechargeable battery bank, includes the Innergie Magic Cable Trio (a suggested $20 retail value), and is available at retailer outlets and online at a suggested list price of $79.99.
If this looks familiar, it is because there are other portable USB charging packs on the market. One of the most popular is the ZAGGsparq 2.0. While it is $20 more than the PocketCell and a little bigger you do gain the ability to charge more than one device at a time via its second USB port. For a closer look at the ZAGGsparq 2.0 feel free to check out our review here.
Do you have the need for a portable USB charging battery pack, or already have one? Share with us which one you have and how you like it in the comments below.
Make sure you stay subscribed through our social media feeds, so that you never miss a beat, by liking us on Facebook, following us on Twitter and joining our circle on Google+.
Hey, you! Join the iJailbreak Insider for weekly newsletters, Jailbreak alerts, contests and more. (No spam, we promise)