Apple released iOS 7 beta 1 to developers today and it is pretty exciting to say the least. Apple changed more in iOS 7 than most people believed and as such it has given iOS a sense of new excitement for users to look forward to. Although iOS 7 won't be released to the public until the Fall, we will be providing comprehensive coverage of Apple's new mobile operating system to help you with your withdrawals.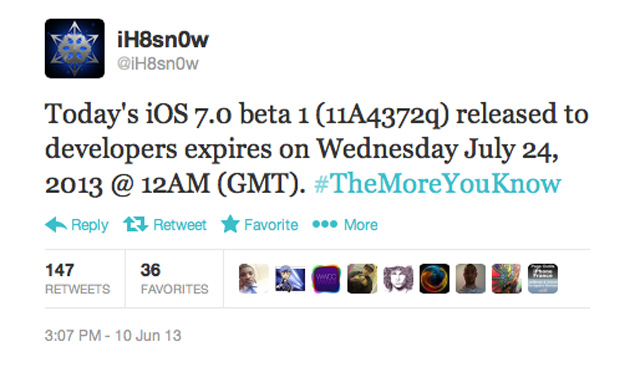 In the mean time, iH8Sn0w tweeted today that iOS 7 beta 1 (11A4372q) will expire on Wednesday July 24, 2013 at 12AM (GMT).  Apple implemented expiry timers on beta firmwares to ensure developers who update to one of the beta firmwares either upgrade to the next beta or the official firmware when it is released. If you do no upgrade to the next firmware version in time your device will be placed in Recovery Mode.
If you haven't already be sure to check out our iOS 7 overview article to learn everything you need to know about the new OS. Also, be sure to keep in mind that if you update to iOS 7 beta 1 you will lose your Jailbreak as you won't be able to downgrade back to iOS 6.1.3.