With Apple's addiction to putting all of its products on a diet, comes one consequence – repairability. When trying to slim a product out it requires some serious engineering to condense everything into the smallest package possible. This is indeed the case with the new line of iMacs, at just 5mm thin at the edges, the new iMac is skinny to say the least.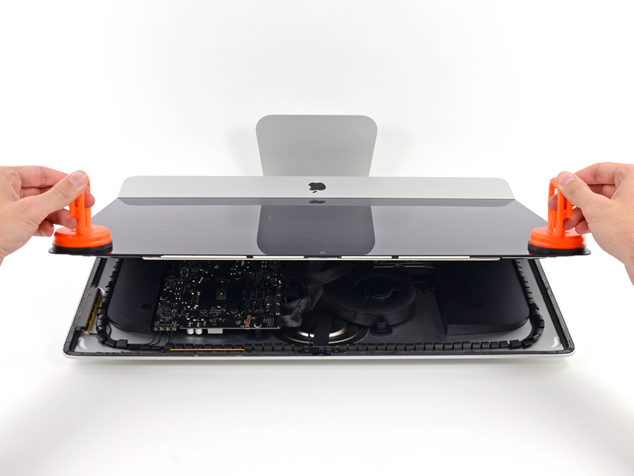 The folks over at iFixit indeed confirmed their worst fears when they got their hands on the 21.5-inch iMac today. During their routine teardown they discovered that the display glass and LCD are glued to the iMac's frame. Previous generation iMac's used magnets to hold the glass in place, which was one of the main reasons iMacs received such a good repairability score. This time around however, the iMac failed miserably.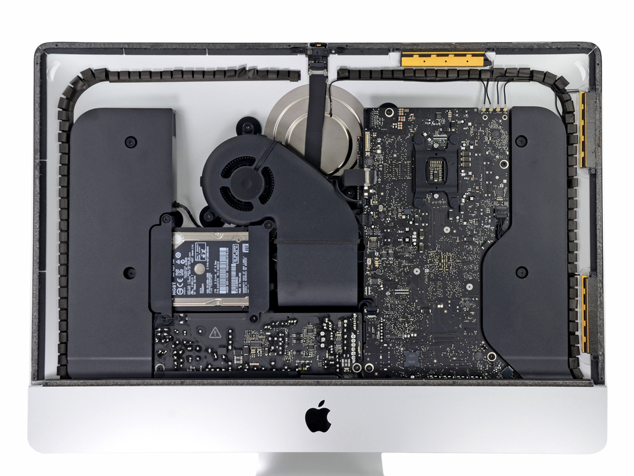 It isn't just the fact that the display glass and LCD are glued to the iMac's frame, the positioning of internal components like the hard drive, RAM and CPU makes replacing them harder than ever. iFixit even went as far as to say some parts of the teardown was "nerve-wracking." The end result of the 21.5-inch iMac teardown from iFixit earned the rig an all-time low repairability score of 3 out of 10. It's 27-inch big brother will likely be around the same level.
Even though the new line of iMacs are as repairable as they used to be, it shouldn't be of too much concern. iMacs very rarely require repair and in most cases Apple Care will have your back if you were smart enough to invest in it.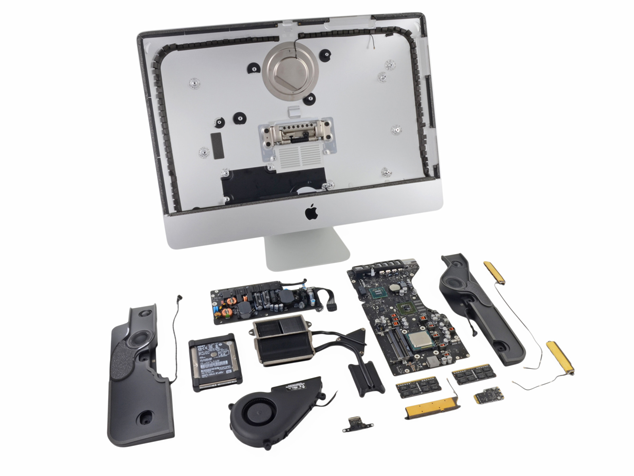 Besides the repairability side of things iFxit found several new hardware components inside the iMac. For starters the hard drive being used is now a 2.5-inch laptop hard drive, down from the previous 3.5-inch hard drive. The machine also packs a new vibration-dampening design, and a single centralized fan. PCMag did a good job at compiling a list of all the new components in the new iMac's logic board that you can see below.
Intel Core i5-3330S, clocked at 2.7 GHz
Nvidia GeForce GT 640M GPU
Intel E213B384 platform controller hub
Texas Instruments Stellaris LM4FS1AH5bb microcontroller
2x Hynix H5GQ2H24AFR GDDR5 SGRAM
Broadcom BCM57765A1KMLG
Intel DSL3510L Thunderbolt controller
Analog Devices SSM3302 audio amplifier
Vimicro VC0359 webcam processor
Intersil ISL6364 multi-phase pulse width modulation (PWM) controller
Cirrus Logic 4206BCNZ audio controller
National Semiconductor VM22AC
Does the new iMac's repairability score turn you off? Or could you care less? Will you be getting one of these badboys? Drop us a line in the comments section below.