This Apple TV Concept Looks Like Something Jonathan Ive Would Approve Of [IMAGES]
Apple has been rumored to be create a television for some time now and although we have yet to hear any significant proof, concepts keep appearing left-right-and-center. Today we have yet another concept, but this time from Martin Hajek for iCreate magazine.
Hajek was asked by iCreate Magazine to help them visualize their idea of a possible Apple TV, and his first thought was that he wanted to avoid doing a big iMac. Although some might say the end result indeed looks like a big black iMac, there is more to the it than just scaling up Apple's desktop computer.
"In collaboration with the editors at iCreate we decided to move the power button to a more practical location (no need to bend down to turn the TV on/off)," said Hajek, who further went on to say "[we also ditched]  the silver color (there is a reason why most TVs are black), add[ed] the necessary ports for watching television and add[ed] an iPad mini/iPhone 5 like gloss bezel around the front edge. The concept definitely looks like something Jonathan Ive would approve of.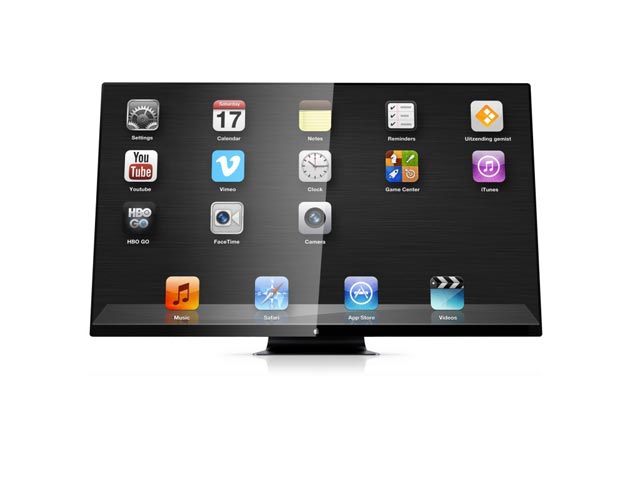 As for the UI of the TV, Hajek simply blew up the iPad interface. The TV shows a number of applications such as YouTube, HBO Go and standard iOS apps like the App Store, iTunes and Safari. To me the user interface doesn't make sense because Apple designed the iPad's UI to be controlled with touch. Considering this is a TV concept users would want to be able to control it from the couch. As such, a remote would be necessary, and an interface more similar to the current Apple TV UI would make more sense.
You can take a look at the entire gallery of this Apple TV concept below. Don't forget to let us know your thoughts in the comments.
Make sure you stay subscribed through our social media feeds, so that you never miss a beat, by liking us on Facebook, following us on Twitter and joining our circle on Google+.
Hey, you! Join the iJailbreak Insider for weekly newsletters, Jailbreak alerts, contests and more. (No spam, we promise)