For the first time ever the Search Engine Giant Google was temporarily worth more than Apple. It is a known fact that Apple's share price has been steadily declining over the last few months and earlier this week the price was at its lowest ever. The Fruit Company dipped below $400 and because Google has been on the rise, Google was temporarily worth more than Apple.
The Wall Street Journal stated "Strip out Apple's $145 billion of net cash as of March, and Google's $45 billion. This leaves an enterprise value of $233 billion for Apple, but $241 billion for Google, reflecting the underlying value of the companies' actual operations."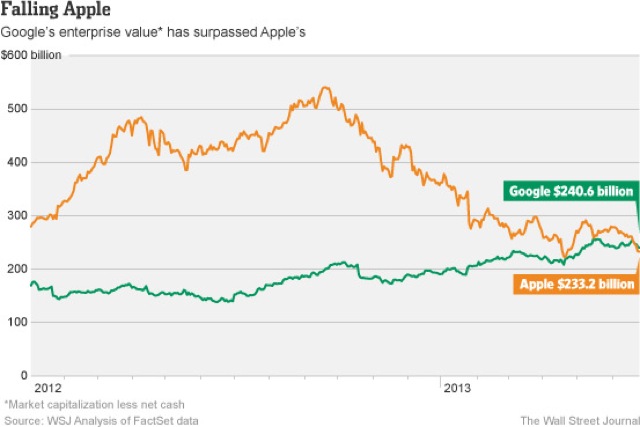 In reality, however, when it comes to the amount of money both companies have in the bank Apple is still in the lead. This would bump Apple's value to approximately $378 billion and Google would be left with $286 billion. When you take away this cash on hand though, Google becomes a more valuable company.
Apple recently gave the title of the world's biggest company by market cap back to Exxon Mobil as well, so this has got to be a slightly alarming for Apple.