Just when you thought there were enough Steve Jobs biopics, Funny or Die, the comedy website, has announced over the weekend that it had made its own Jobs movie titled iSteve. Funny or Die have been known to make some pretty hilarious skits and parody videos, so you can definitely expect iSteve to somewhat make fun of Steve Jobs.
iSteve stars Justin Long ("New Girl," "DodgeBall: A True Underdog Story") in the title role, James Urbaniak as Bill Gates, Michaela Watkins as Melinda Gates and Jorge Garcia as Steve Wozniak, who co-founded Apple. The movie won't be a usual production from Funny or Die, the website has announced that the movie is actually 60 to 75 minutes in length, which is the longest project to date.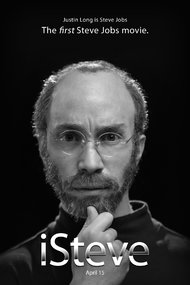 Apparently the team behind Funny or Die were contemplating the idea of making a fake Steve Jobs movie trailer and, "as often happens in a writers' room, the joke kind of escalated." The 81-page script for iSteve was written in three days; it was taped in five.
As I am sure you expected, iSteve will not be based on very thorough research. It will be a very silly movie, but still will look over his whole life. The New York Times point out that "making fun of Mr. Jobs, the Apple co-founder who died in 2011 and who is considered a deity by many people (at least in the tech world), is a risky proposition, even if done gently. But Allison Hord, who produced iSteve, said the tone was such that even the harshest fanboy critics will be able to laugh with us."
iSteve will premiere online on April 15th. In the meantime, check out this previous parody of Steve Jobs from Funny or Die staring Jason Statham…