Between the crazy long hours, the safety concerns, and the generally poor quality of life at Foxconn's Chinese factories, it's enough to make the whole place pretty unpleasant. So much so that the company had to install nets between the buildings last year, to prevent their workers from throwing themselves off the roofs.
When news of these conditions reached the Western world, there was quite an uproar about it, since the company is responsible for the manufacture of many electronic gadgets we use every day. Their client list includes Apple, Microsoft, Dell, and a host of other computer and technology companies.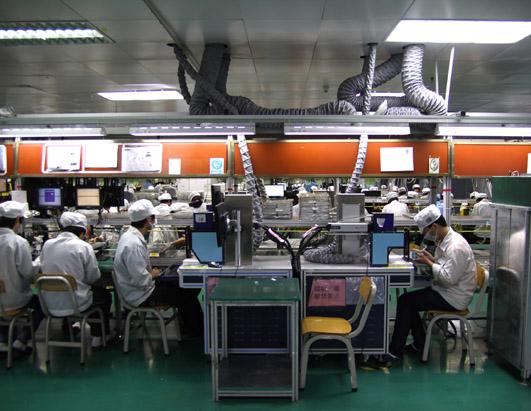 Apparently Foxconn has taken their worker's grievances more seriously since they received so much media attention. The Fair Labor Association (FLA) went through Foxconn's factories in February of this year, and made a list of recommendations to improve worker health and safety. Their plan for improvement stretches all the way through to the middle of 2013, but there's some milestones to hit along the way. Today, the FLA released a report on how well Foxconn is complying with their recommendations so far, and the results are somewhat promising.
Here's what the FLA had to say about Foxconn's improvement over the last six months:
Many physical changes to improve worker health and safety have been made since the investigation, including the enforcement of ergonomic breaks, changing the design of workers' equipment to guard against repetitive stress injuries, updating of maintenance policies to ensure equipment is working properly, and testing of emergency protective equipment like eyewashes and sprinklers. Foxconn has also engaged consultants to provide health and safety training for all employees.

The most significant commitments made by Foxconn following FLA's original investigation were related to union elections and worker representation, and compliance with Chinese labor law regarding hours of work. Deadlines for remediation of these items continue through July 2013; however, Foxconn has taken initial steps toward fulfilling these commitments. The company has reduced hours to 60 per week (including overtime) with the goal of reaching full compliance with the Chinese legal limit of 40 hours per week plus an average of 9 hours of overtime per week while protecting worker pay.

Foxconn also helped to extend unemployment insurance coverage for migrant workers working in Shenzhen by advocating for legislation that will allow them to access the unemployment insurance scheme, effective January 1, 2013. This change has implications not only for those employed at Foxconn, but for all other migrant workers in Shenzhen.
What are your thoughts? Is Foxconn improving their working environment fast enough? Share your responses in the comments section below…