I'd like to preface this article by saying I'm a huge fan of Evernote. I use the cloud-based note-taking app to save my early drafts, organize my notes, and in a pinch it also works as a covert method for smuggling small files by renaming their extensions ".doc". At it's core, Evernote is a great way of keeping a backup of all your important notes on the cloud–which allows you to access those notes from any device with a web browser.
In late October the Evernote team announced that they would be updating the Evernote app for Mac. Evernote 5 for Mac includes a new sidebar, an improved notes list, a smarter search, and a Map-view mode called "Atlas", along with other improvements. Evernote actually sent out the Beta version of their new Mac app yesterday, but there was so much interest in the updated version that it actually caused issues for the service. If you want to install the Beta, install the version of Evernote available at the Evernote site; in the program's menu go to Preferences -> Software Updates, and select the option to "Update to beta versions when available." This will not work with the version of Evernote available in the Mac App Store–the checkbox will not be available.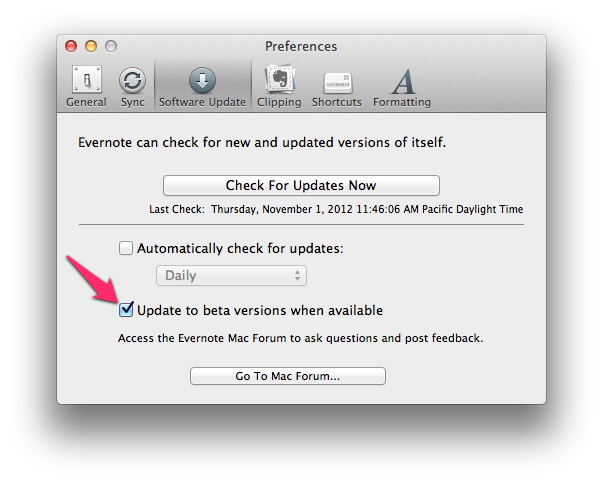 One of the best new features in Evernote 5 may be the sidebar–which includes a new shortcut feature for notes, tags, or notebooks; In addition to user-set shortcurts there's also a "recent notes" heading, so you can quickly go back to the last 5 notes you uploaded. This makes it easy to quickly find the notes you'll be most likely to look for.
Evernote recently updated the Windows version of their app to support Windows 8; an iOS version of Evernote 5 for iPhone, iPad, and iPod Touch is coming soon, also with a major visual overhaul.
Download Evernote for Mac – FREE [Version From Evernote Website]
Do you use Evernote, or do you use a different service for syncing your notes? Share your thoughts in the comments section below.