In July Apple made the surprising move of removing their products from the EPEAT (Electronic Product Environmental Assessment Tool) registry of environmentally friendly products. This caused a huge uproar with consumers and even in the enterprise sector because it is often times mandatory for large corporations to only purchase electronics that are EPEAT certified.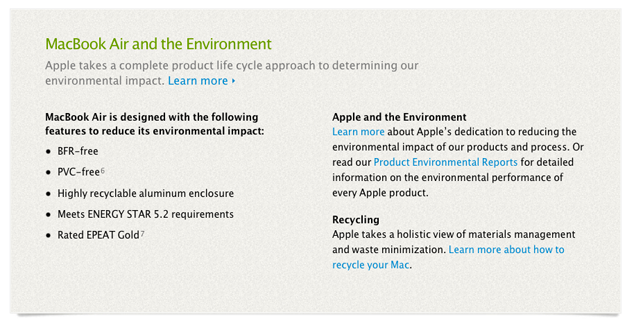 As a result of this disapproval of the fruit company's decision, Apple backpeddled and put its products back on the registry stating "they will be involved in working with EPEAT to improve their IEEE 1680.1 standards." In Apple's eyes this involved taking into consideration other factors such as greenhouse gas emissions and product life cycle when determining if a product met EPEAT's strict guidelines.
Initially it was thought Apple's new Mac laptops introduced this year would not make their way into the EPEAT registry because of how hard they were to repair and because the batteries were glued to the chassis. Surprisingly enough however, one day after Apple backpeddling, EPEAT listed the MacBook Pro with Retina display as meeting its standards.
Now EPEAT has released the results of an investigation of ultrathin (unibody) laptops, including Apple's latest MacBook Air, and have found they do conform to the EPEAT environmental standard. According to PCWorld "The investigation, which covered five laptops made by four companies (Apple, Lenovo, Samsung and Toshiba), was started after Apple said in July it was withdrawing from the voluntary certification then reversed its position after an outcry from its customers."
For the verification investigation, EPEAT contracted with a technical test lab to independently purchase these devices on the open market, and disassemble them according to the instructions provided.

Following their disassembly investigation, the test lab recommended that all the products be found to satisfy EPEAT requirements. After reviewing the data and recommendations provided by the lab, the PVC found all investigated products to be in conformance with EPEAT criteria, clearing the way for all the products investigated to remain on the EPEAT registry.
The reason why unibody laptops were generally considered to be not environmentally friendly is because the body of the computer is formed from a single piece of metal or plastic. Although this means the laptop can be more compact, it also usually means the laptop is more difficult to take apart and recycle.