It's finally here folks! After years of waiting, Microsoft has finally released the official Office apps for the iPad. Taking the stage at a press conference in San Fransicso, Microsoft's new CEO Satya Nadella spoke about their new Mobile first, Cloud first campaign. This is his first announcement and a big one. Then, Julia White, Microsoft's chief of Office Division Product Management took the stage and revealed Office for iPad!
So here's what Microsoft has done. Instead of releasing one single app with all Office products, the company has released three different apps for Word, Excel and PowerPoint. Right now, Outlook and other Access aren't available in the Office suite for iPad. The apps are nothing like its Windows counterparts and have been developed specially for the iPad. And they do look pretty good. All the three apps are available for free and let you view and present documents. To have the ability to edit and create documents, you'll need to have an Office 365 subscription. Here's a video introducing Office for iPad:
With an Office 365 subscription, you'll not only be able to edit and create files, but you can do so with multiple devices. Just like Word, Excel and PowerPoint for desktop, the iPad apps lets you track your progress and continue working from another device. All the three apps use Microsoft's OneDrive cloud storage to keep your files backed up and updated across all your devices. You can also share your files on OneDrive and get others to help you out. However, there is no support for Dropbox or Google Drive.
Excel for iPad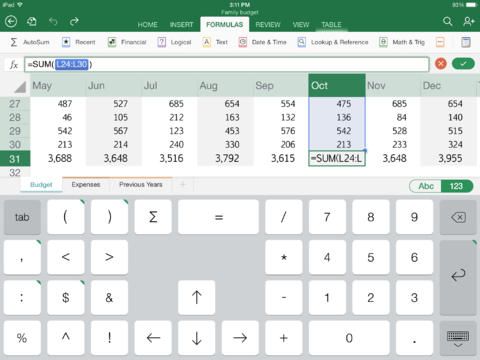 Creating Excel spreadsheets with Excel for iPad is easy and it all looks similar to the desktop app. You can add various elements such as formulas, tables, charts, comments, hyperlinks etc, it's all there.
Download Microsoft Excel for iPad [iTunes link]
PowerPoint for iPad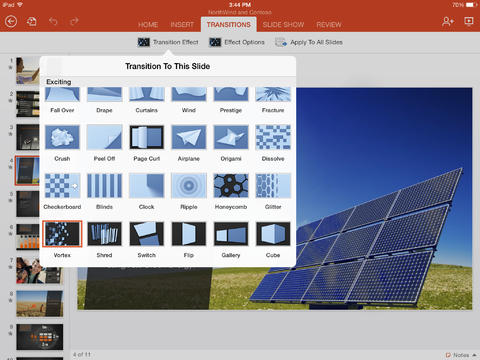 Once again, enjoy the same editing and document creating features available on the desktop app, on the iPad. Once your presentation is complete, you can use Apple features like AirPlay to share it on a TV screen.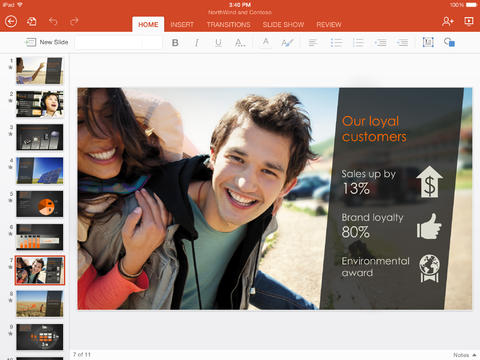 Download PowerPoint for iPad [iTunes link]
Word for iPad
On Word, you can use iPad features like voice dictation to create a new document. Again, all of the features from the desktop apps are available on iPad. And as the apps are all designed for the iPad, everything is made to work with just a touch, or sometimes two.
Download Word for iPad [iTunes link]
Office for iPad will only work on iOS 7 or later, is currently available in 135 markets and supports 29 languages. Here's the official Press Release from Microsoft.
So basically, to enjoy all the available features on Office for iPad, you'll need to shell out $9.99 every month for an Office 365 subscription. You could also opt for a $99.99 Home Premium package that will give you multiple computers and mobile devices access. Want to try it out before you buy? Then get the free 30 day Office 365 trial offer.
I believe that Microsoft is too late in the game, as many iPad users have already settled in with other document creating and editing apps such as EverNote, Google Drive etc. Although business users may be okay with the subscription model, normal home users will not be.
Would you be trying out the new Office for iPad? What do you think of the Office 365 subscription plans?