Apple released iTunes 11 just shy of December and it was definitely worth the wait. We reviewed iTunes 11 and found that it is a major overhaul both visually and functionally. Some of the only complaints that iTunes 11 garnered was that it lacked the ability to find duplicate tracks and also didn't include the popular Cover Flow functionality.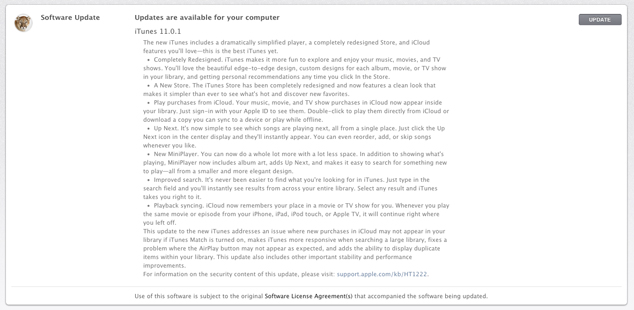 Apple has just updated iTunes this evening however, to version 11.0.1 that brings back duplicate track finding and of course fix a wide variety of bugs. The changelog reads "This update to the new iTunes addresses an issue where new purchases in iCloud may not appear in your library if iTunes Match is turned on, makes iTunes more responsive when searching a large library, fixes a problem where the AirPlay button may not appear as expected, and adds the ability to display duplicate items within your library. This update also includes other important stability and performance improvements."
You can upgrade to iTunes 11.0.1 through a software update if iTunes is already installed on your computer. If not you can head on over to Apple's official website to download iTunes 11.0.1 for Mac OS X and Windows.
Drop us a line in the comments section below on how this iTunes update is working out for you.