Today Mozilla has released an update for Firefox bringing it to version 7. In this update from Mozilla comes some blazing fast performance increases, thanks to reduced memory consumption.
Mozilla is going to be drastically increasing the speed of Firefox in the coming months to compete with Google's popular Chrome browser, as part of the Memshrink initiative.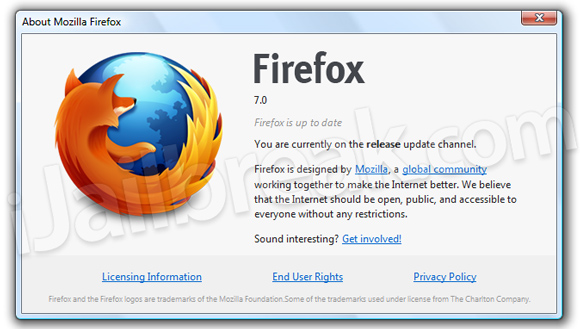 You can read official information from Mozilla about the Firefox 7 update below:
Firefox 7 uses less memory than Firefox 6 (and 5 and 4): often 20% to 30% less, and sometimes as much as 50% less. In particular, Firefox 7′s memory usage will stay steady if you leave it running overnight, and it will free up more memory when you close many tabs.

This means that Firefox 7 is faster (sometimes drastically so) and less likely to crash, particularly if you have many websites open at once and/or keep Firefox running for a long time between restarts.
If you are interested in downloading Firefox 7 for both the Windows and Mac OS X operating systems, you can do so by visiting the official website by clicking here. If you already have Firefox installed, however, you should be prompt to automatically update.
Let us know what you think of Firefox 7 in the comments section below…