A new report shows that Samsung continues to be the Top Mobile OEM in the United States, with Apple at its tail. Google, with its Android mobile OS, takes the top spot among Smartphone Platforms, again tailed by Apple's iOS.
This new data comes from comScore, who studied more than 30,000 U.S mobile users above the age of 13. About 123.3 million own smartphones in the United States. The survey was conducted between August and November of 2012. Samsung turned out to be the Top Mobile manufacturer in the U.S with about 26.9 percent market share. Apple was second with a market share of 18.5 percent, followed closely by LG, Motorola and HTC.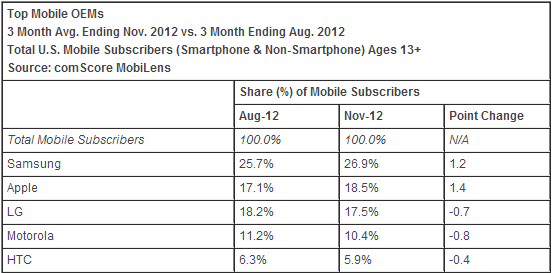 Samsung and Apple had gained more users, whereas LG, Motorola and HTC saw a decline in numbers. The Samsung Galaxy SIII and the iPhone 5 are currently the most sought after phones in the U.S. LG had a good year thanks to the Nexus 4, which did quite well upon its release. I wonder why there's no mention of RIM.
When it comes to smartphone OS, Google took the top spot with its Android OS. Google's Android OS has a market share of 53.7 percent in the United States.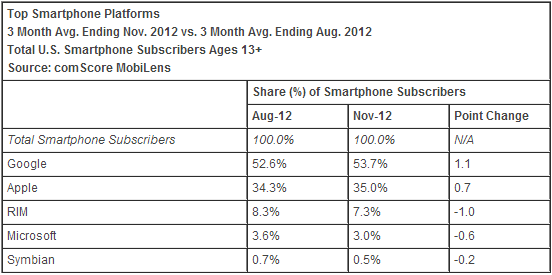 Apple, obviously, follows with its iOS platform, which accounts for about 35 percent of users. This was followed by RIM, Microsoft and Symbian. RIM's BlackBerry OS was the biggest loser, falling down by a whole percent. Microsoft's Windows Phone 8 OS and Nokia's Symbian also lost subscribers.
Things might change in 2013 though, if BlackBerry 10 turns out to be as good as it's said to be. Apple will probably bring out iOS 7 with plenty of improvements and new features. Google will continue to lead the race and also release Android Key Lime Pie sometime this year. What do you think is going to happen in 2013? Who's going to win and who will lose? Let us know in the comments section.