Want more apps on your Apple TV? Unless you jailbreak your device, you do not have the option to run additional interactive content on your Apple TV. At least not without AirPlay. What's interesting about AirPlay is that it's actually capable of more than just display mirroring. There are a few games and apps that already support a true dual-screen experience, such as MetalStorm Wingman, Ducati Challenge HD, and Vevo, and there may soon to be many others.
Brightcove announced in their keynote today that they would make their App Cloud platform open source, and will include an SDK which will make it easier for developers to treat an AirPlay connected Apple TV as a second monitor. Think of it as Microsoft's Smartglass in reverse, where the tablet is streaming content to the connected console.
On the end-user side, to activate this feature all you need to do is enable AirPlay and your iPhone, iPad, or iPod Touch becomes the menu, controls, or supplemental information. Brightcove's CEO Jeremy Allaire demos a fictional video app called Vido which, when connected to an Apple TV, contextually changes the interface on the iPad. Allaire also demos a interactive trivia app which puts the questions on the TV screen and the players' options on the iPad.
I would be interested in seeing if this approach to AirPlay makes its way to homebrew applications on Cydia. Emulation for classic consoles is one big reason why people still jailbreak – and it is handy to have the classic games on a mobile screen – but many of those games were designed to be played on a CRT TV. Even if the aspect ratio on the iPad is right, something just feels off about playing retro games on an IPS display.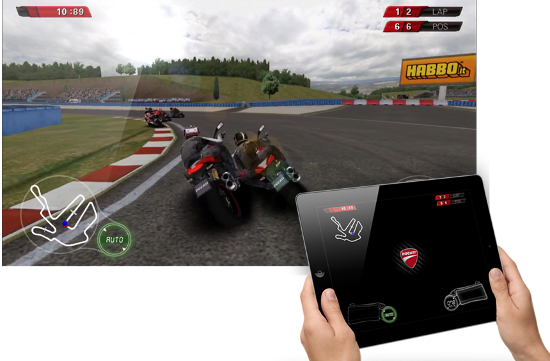 What kind of apps would want to see with dual screen support? Share your thoughts in the comments section below.