Not only has Apple made an iPhone tips and tricks page, but now they have also made an iPhone basics page that dives into how to get the most out of your iPhone using a variety of the stock applications.
Apple previously had a number of iOS 7 support pages in their knowledge base, but they have now simplified them and presented them in a much more appealing manner.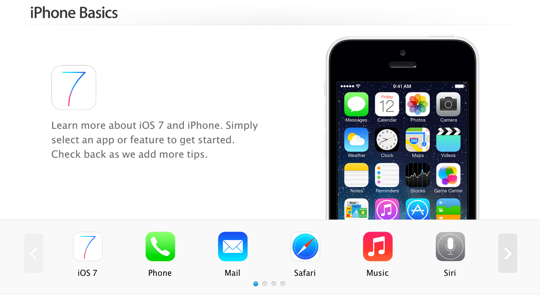 Upon visiting the page you will be presented with a bunch of icons in a carousal that upon clicking (or tapping) will bring you to a sub section of that specific area of iOS 7.
Whether or not you consider yourself a power user or an iOS 7 newbie you should check out the new iPhone basics section to test your knowledge of iOS 7′s features. There were a few that even I wasn't aware of.
The page is even iOS optimized and is a sign Apple is slowly trying to improve its web presence.
Be sure to let us know if you learned anything new from this page in the comments section below.