If you have heard about Belkin and their supposedly Thunderbolt Express Docking station, it is because you have. They initially unveiled this product back in September of last year at the Intel Developer Forum, but then it seemed to disappear. Well it is back at the Consumer Electronics Show in Las Vegas and this time we actually have a release date to tell you too!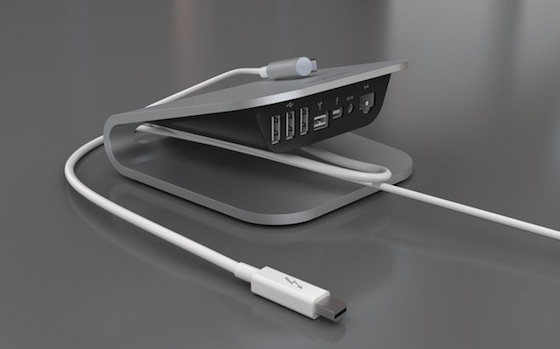 They have announced that this Express Dock will be available September of this year for $299 big ones. While I find this to be quite pricey, it has a tremendous array of connections, including numerous USB 2.0 ports, an HDMI, Firewire 800 and audio ports.
Belkin Thunderbolt Express Dock – $299

– Quickly connects into a desktop workstation and instantly accesses multiple devices with a single cable
– Adds reliable, gigabit Ethernet connectivity to your laptop
– Includes three USB 2.0 ports, one Firewire 800 port, one HDMI port, one 3.5mm Audio port, one gigabit Ethernet port and two Thunderbolt ports (one upstream and one downstream) for daisy-chaining to another Thunderbolt compatible device.
– Utilizes Thunderbolt Technology for data transfer rates of up to 10Gbps bi-directionally
Apple does offer similar docking abilities but it is found in their $999 Apple Thunderbolt Display. This display includes three USB ports, a Gigabit Ethernet port, a Firewire 800 port, FaceTime HD cameras and a 2.1 speaker system. In both of these devices, all of those connections are made from or to your computer through a single Thunderbolt cable, now that is amazing. Shame that there is barely anything out on the market at a reasonable price.