Earlier this week Ashton Kutcher was seen on the first day of shooting for the small budget biopic Jobs: Get Inspired. Celebuzz' Pacific Coast News managed to snag dozens of snapshots from the set, the garage where Steve Jobs and Steve Wozniak assembled the first 50 Apple Is.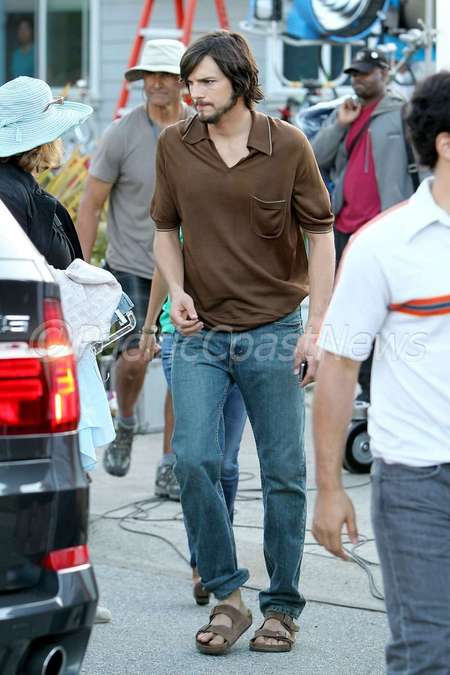 Take a look at the photos of Kutcher. The thirty-something actor does bear a striking resemblance to Steve Jobs in the 80s. Especially with the collared shirts, before Jobs discovered turtleneck sweaters. The look's not as iconic, but it's more accurate than the previously released photos.
While this isn't the big budget adaptation of Walter Issacson's biography of Steve Jobs, and the screen writer Matt Whiteley (who?) isn't as well known as Aaron Sorkin, this movie has something going for it. It's still going to be about Steve Jobs' rise a college dropout to… being Steve Jobs. Steve Jobs was an underdog, and of the two upcoming Steve Jobs movies, Jobs: Get Inspired is the underdog. How can we not cheer for the underdog film?
Jobs: Get Inspired will also have Steve Wozniak portrayed by Josh Gad, nominated for a Tony Award in 2011 for his performance in Trey Parker and Matt Stone's Book Of Mormon. I will be interested to see how Jobs: Get Inspired treats the other Steve. The Pacific Coast News has a snapshot of Gad looking puzzled and holding a miniature carton of milk, being led by Kutcher. It looks like The Woz is being presented as subordinate.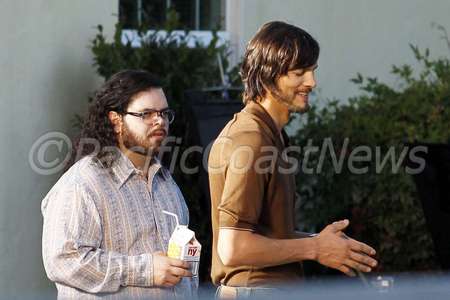 Will you be watching Jobs: Get Inspired, or will you skip it for the Social Network 2? Share your thoughts in the comments section below.