Last week we told you guys that Apple's spaceship campus was pending approval of the city council before construction would begin and that the Fruit Company had even made a highly detailed model of the project. Getting the go ahead from city council was the last go ahead Apple would need and as such everything was riding on their decision.
According to MacRumors Apple has received this go ahead after 6 hours of discussion on the subject, and the approval was met with significant applause by those in attendance.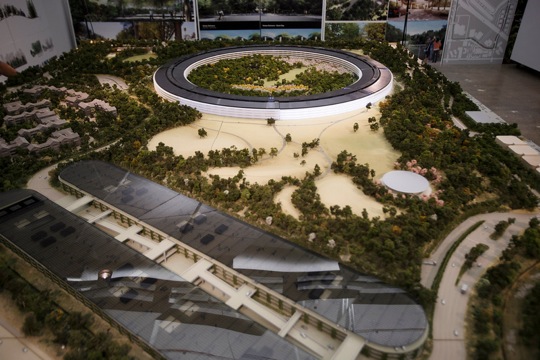 The only thing that could set Apple back is if any petitions are filed within a 10-day period. If no such petitions are filed, then Apple will be granted ancillary permits to begin demolition of the former HP campus currently located on the site, as well as utility relocation, tree removal, and construction of a temporary sound wall.
Tim Cook even issued a tweet about the approval:
Our home for innovation and creativity for decades to come. Cupertino City Council Gives Unanimous Approval for Apple's New Campus

— Tim Cook (@tim_cook) October 16, 2013
Apple plans to have construction finished by 2016, which is definitely a very narrow timeline considering how large of a project building the campus is.
Apple's plans for Phase 1 of the project call for a 2.8 million square foot ring-shaped main building with an underground parking facility for nearly 2,400 vehicles, a 100,000 square foot fitness center, a 120,000 square foot auditorium, a main parking structure with space for nearly 6,000 vehicles, and assorted other minor facilities. A second phase of construction would consist of 600,000 additional square feet of office and research and development buildings, as well as other parking and energy generation facilities.
But it goes to show you the man power you can hire when you have over $100 billion in the bank.