According to a recent report from the Chinese Technology publication C Technology (via MacRumors) Apple is planning on releasing the long-rumored iWatch alongside the next iPhone in October 2014. Reportedly the company has been testing two iWatch prototypes, as it cannot decide upon the final screen size of the device (previously rumoured to be 1.7 and 1.3-inches).
More interesting the iWatch is said to be powered by a 100 mAh battery (the same size as the sixth-generation iPod Nano) with wireless charging capabilities which will allow the device to charge from up to a meter away. The report questioned whether or not the battery size was too small, however, as the Galaxy Gear watch contains a 315 mAh battery and has received criticism over poor battery life.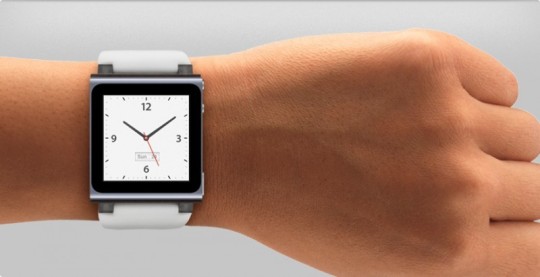 Sixth Generation iPod Nano Watch
Earlier reports indicated that battery life was an issue for Apple and that the watch was only lasting 1 to 2 days, when the company was hoping to extend it to 4 to 5 days.
Even if the battery life ended up only being 1 to 2 days, if there was wireless charging this would take away a large burden of the frequent charges, but at this time it isn't known how it will be implemented.
C Technology has a mixed track record, so it is hard to say whether its source is reliable, but wireless charging would be a differentiating feature.