Apple has tweaked the Thunderbolt Displays which they are currently shipping to customers, according to 9To5Mac. The change seems to be a minor revision, with the product's code changed from MC914LL/A to MC914LL/B. The only major change noticed is the in-box inclusion of a MagSafe 2 adapter for compatibility with Apple's new MacBook Pro with Retina display as well as the latest MacBook Air.
If owners of the fancy new Apple laptops want to draw power from their existing Thunderbolt monitors (or the older LED Cinema Displays) to their compact workstations, they can purchase an adapter for $10. (Which is a hefty price to pay for a big magnet.) You would think that if someone were to spend upwards of $2199 on a new MacBook Pro Apple would mail the adapters to customers or toss a couple adapters in the box for free.
It will be interesting to see if Apple keeps the legacy MagSafe as the standard, or if the next generation of Thunderbolt displays will default to MagSafe 2, with an adapter for the legacy Magsafe. As we've seen with Mini DisplayPort and Thunderbolt (and perhaps the upcoming revision to the iPod dock connector) Apple isn't afraid to slim down its devices, even at the cost of cable-adapter simplicity.
All in all, this isn't the most shocking revelation to come out of Cupertino, but it does offer a glimpse into Apple's attitude on connection ports. It does seem credible that Apple would be willing to package an adapter to maintain compatibility for a redesigned dock connector the work with the widespread current docks.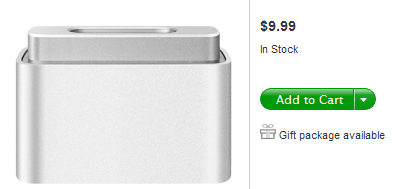 Would you buy a $10 adapter for your monitor's charging station, or would you just use another power bar? Share your thoughts in the comments section below.