We have learned that an iPad 3 announcement is very likely near the end of February or the very first week of March, coupled with a launch a few days afterwards. We also know that the iPad 3 is codenamed "J2″ in the iOS 5.1 Beta software, and know of another product mentioned in the iOS 5.1 beta codenamed J33. Both seem to be A6 devices, but we don't know if this may be a 1080P/A6 upgrade from the current Apple TV or something bigger and better.
According to 9to5Mac, one of their Best Buy sources for the United States chain have alerted them that not only is the media streaming device out of stock, but are no longer shipping to stores:
A customer was inquiring tonight about Apple TV. However right now we are out of stock (Which hasn't happened since I started). Not only were we out of stock, but I was also unable to order one from our product ordering system (OMS). Product was listed as "currently unavailable". From prior experience, this usually is associated with a product that is being "discontinued".
In addition to the Best Buys in the United States, our source in the Canadian side of the large electronics retailer also confirms that the Apple TVs are no longer being shipped to the stores, and are not on order at their distribution centers. Best Buy is not the only retailer that is showing this lack of inventory, a quick trip around the Internet reveals many retailers are out of stock including Amazon, Target, and Radioshack. Amazon claims that they are out of stock for "2-5 weeks" which seems to fall perfectly within the window of the rumored iPad 3 announcement. In addition to the lack of inventory, they are also referring to it as the "2010" model once again.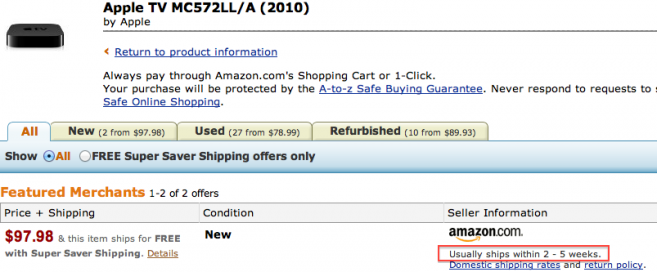 Could this be what we all have been dreaming of since the release of the 2nd generation Apple TV, a 1080p version? I can only hope so! It would make sense for Apple to launch a 1080p Apple TV alongside the release of the iPad 3, as the third-generation iPad will most likely have a Retina Display. This display will bring HD content to the iPad, and Apple would need some sort of 1080p device to send the content to, as they have always pushed the ability to Mirror your iPad 2 screen to an Apple TV connected television.
Do you think Apple will launch a new generation of the Apple TV alongside the iPad 3 announcement? Share your predictions in the comment section below.