Imagine your white iPhone 4 has a hardware defect, so you take your phone to an Apple Store to get it fixed. The girl you're talking to is a Genius, but she can't fix the issue with your phone in the store because the problem's not software. Since your phone's still under warranty, and they are out of replacements for the white iPhone 4, this Genius upgrades you to the iPhone 4S for free. Pretty awesome, right? Now imagine that the iPhone 4S you walk away with has all your contacts, photos, and apps preloaded. According to this rumor, Apple is looking to make that scenario a reality.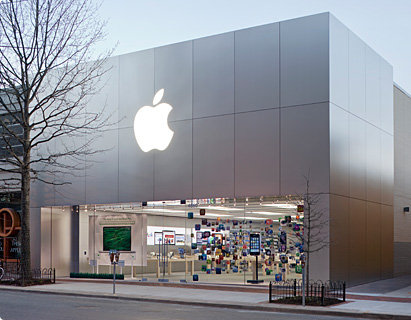 9To5Mac reports that Apple is working on local servers that can be installed in their Apple Stores which can make temporary (and secure) backups of iOS devices, according to "sources." These servers would allow customers who forget to backup their phones walk away with replacements without losing their data (or making another appointment). This would be a lot like Apple's iCloud service, except locally inside the store.
While this rumor is really cool, I'm guessing these servers, at best, aren't going to back up Cydia tweaks, jailbreaks, and other content made possible by the homebrew modding community. At worst this service will be used as leverage to discourage jailbreaking. There is another possible consequence as well: you could be "upgraded" to a device, which you don't have shsh blobs for, that does not currently support jailbreaks.

Still, it'd be nifty to walk out of an Apple Store with a replacement that "just works." What do you think: would local backup servers at Mac Stores be genius? Let us know in the comments section.