Apple's Maps app may not have been a success, but the fruit company is working very hard to win back its loyal customers and improve the mapping application. According to the Wall Street Journal, Apple is also considering signing a deal with popular location-based social service Foursquare, and use its data to improve the iOS 6 Maps app.
Google hit the jackpot when it released the Google Maps for iOS app in the App Store, garnering over 10 million downloads in the first 48 hours and reaching the number one free app spot in the App Store. Google Maps is good news for iOS 6 users, but its popularity is bad news for Apple. Integrating Foursquare's local data, places, recommendations, reviews etc. could be very helpful in improving Apple's Maps app. Foursquare currently boasts over 20 million registered users, most of who very actively Check-in to places and leave tips, recommendations and reviews.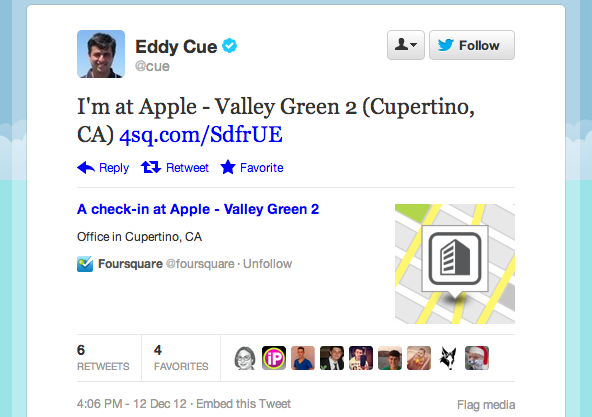 Last week, TechCrunch reported on Apple SVP Eddy Cue's interesting Check-in at Apple HQ using Foursquare. Apple could also be replacing Yelp integration with Foursquare. The WSJ has heard from 'people familiar with the talks' that Apple's Eddy Cue has been talking to Foursquare's CEO Dennis Crowley in the recent weeks. Here's the report:
Apple Inc. is in early discussions to integrate local data from Foursquare Labs Inc. into its mapping application, according to people familiar with the talks, as the company continues to build an arsenal of local data to try to take on Google Inc.

The talks, which took place in recent weeks and involve Apple senior vice president Eddy Cue, are the latest sign of Apple's plans to more tightly integrate local services into the iPhone and iPad. The talks with New York-based Foursquare come as Apple has been talking to a number of companies that collect local data to improve its new mapping product. The maps service, released in September, has had a rocky reception and faces fierce competition from Google.
Whatever Apple and Foursquare are up to, we will find out soon enough. If WSJ's reports are correct, which is often the case, then we should see Foursquare integrated i to iOS 6 and the Maps app. Apple's main competition in the Mapping war is Google, who currently have a better Map app for iOS than Apple's. Do you think a deal with Foursquare will help Apple improve their Maps app?