Apple has seeded the first beta of OS X 10.9.3 to registered Mac developers which comes only 1 week after Apple released OS X 10.9.2 with fixes for the GoToFail SSL bug, Mail and FaceTime audio.
As long as you're a registered Mac developer you will find the update in the Mac App Store update tab or as a full download in Apple's Mac developer portal.
Right now the only known changes / new features is a new  'Native' Retina resolution option for 4K displays. This enables those running OS X 10.9.3 with compatible displays to use OS X in a noticeably sharper Retina mode at 60Hz.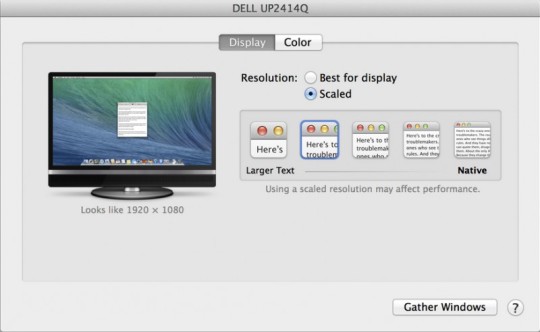 MacRumors has the full scoop:
"The compatibility was first discovered by Twitter user @KhaosT, and was tested with both the Late 2013 Retina MacBook Pro and redesigned Mac Pro in conjunction with Dell's UltraSharp 24 Ultra HD Monitor.

To this point, OS X compatibility with 4K displays has been known to be somewhat erratic, as AnandTech revealed in December that Sharp's 32" 4K display supported only one scaled resolution at 2560 x 1440. Furthermore, it was discovered that Apple had chosen to render text, menu and UI elements in the same manner as the Retina MacBook Pro, resulting in small and difficult to read on-screen elements on a 4K display. Various other 4K monitors were also found to be not properly supported."
This new addition of native 4k support could indicate that Apple is soon planning to release high-resolution thunderbolt displays. We could even see a fully fledged 4k iMac released as both are due for updates.
Let us know if you notice anything else that has changed in OS X 10.9.3 in the comments section below.