Apple has just released a new beta firmware version for iOS 7, brining it to version 7.1 this afternoon with a build number of 11D5099e. If you are a developer you can now download the new beta version of iOS 7 directly from the developer center.
For those of you who have been keeping track this comes roughly one week after Apple issued the iOS 7.0.4 update. This of course tackled bugs to do with FaceTime and other minor stability improvements.
So just what's new with iOS 7.1?
Well Apple has officially mentioned iOS 7.1 comes with some network connection fixes and various other bugs a select number of users have been experiencing.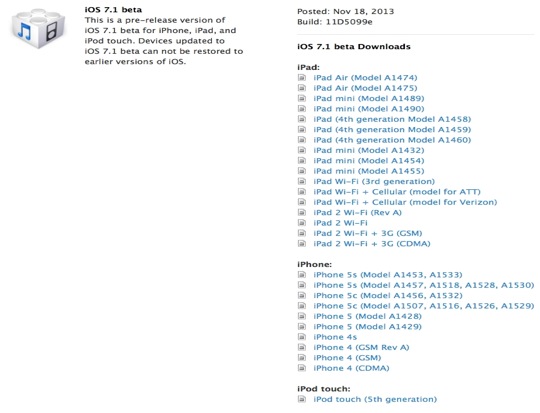 Prying eyes have also discovered a new Yahoo logo in the Notification Center along with the Weather app, a new HDR Auto feature in the Camera app, Upload Burst Photos option in the Settings app and a few other small tidbits.
If you decide to update your iPhone, iPod Touch or iPad to iOS 7.1 then let us know if you discover everything else in the comments section. 

On another note Apple has also released a beta firmware version for the Apple TV which "enables users to mirror content of an iPad to an Apple TV using AirPlay." It doesn't go into much more detail than that, but you can expect the update will be tackling the latest AirPlay functionality. 

Just like iOS 7.1 it can be downloaded from the iOS Device Center.