On the update spree, not only has Apple released iTunes 11.1.1 and a Supplemental update to OS X 10.8.5, but the Fruit Company has also released OS X 10.9 Mavericks GM to developers.
This of course means that OS X 10.9 Mavericks is essentially polished enough to be released to the public and it is in its final beta testing phase. As long as no more pressing issues are discovered the GM version will be the same version that will ship when Apple officially makes OS X 10.9 available for purchase.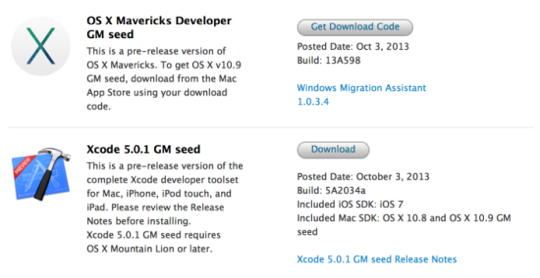 If you are a developer you can update to OS X 10.9 Mavericks by heading to the Mac Dev Center and downloading it yourself. Unfortunately it will not be available OTA (over-the-air) or through the Mac App Store.
There is a lot to look forward to in OS X 10.9 Mavericks that includes improved battery life for Apple's MacBook line, new poweruser features like finder tabs and much more. It has also been rumored that we could see updates to both iWork and iLife suites of software.
Let us know how the GM version of Mavericks runs in the comments section below? Is it ready for public consumption?