The best way to buy an Apple product is to visit a nearby Apple Store. Why? Well, you get a first hand demo of the product that you're interested in buying, you can talk to the employees and know more about the product. Of course, it's much easier if you just buy it online, however, going to the store and buying one has a different feeling altogether.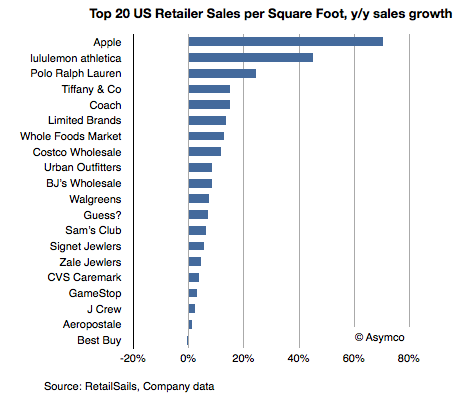 Apple Stores are growing very large in numbers, they're everywhere and they're known to be the best electronic stores anywhere. RetailSails did some research based on the highest sales per square feet of store space from 160 + stores across the United States. They made a chart of the top 20 retail store chains and Apple took the first spot. What shocks me though, is the fact that Apple only got in to the business about 10 years ago and are currently 17 times ahead in the business.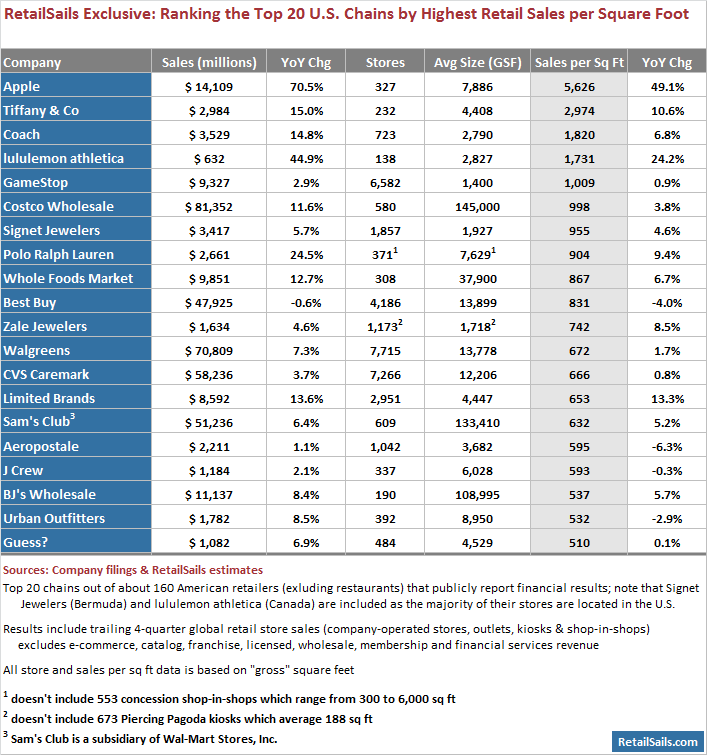 Apple outperforms most other retail stores including the likes of Best Buy, Gamestop, Tiffany & CO and many more. That's quite an achievement for the company don't you think? They don't even have half the number of retail stores that Best Buy has, yet they make a lot more money per square feet.
It's not surprising Apple leads the pack, as there have been numerous articles such as this, but it is quite shocking by how far ahead of the competition they are, especially considering the company only has 10 years of retail experience.
What do you have to say about this? Don't you like visiting those Apple Stores? Let us know in the comments.