No longer is Apple showcasing its latest products on the homepage of its website, but instead a tribute to Nelson Mandela to honour the late South African president's life a day after he passed at the age of 95.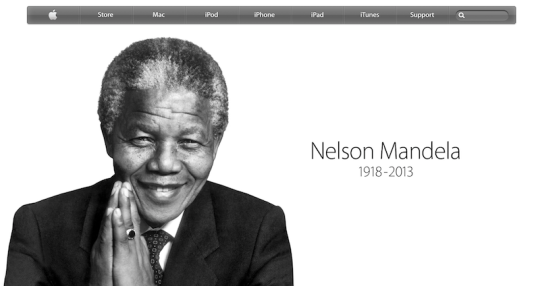 Many Apple executives also took to Twitter to comment on the death, with SVP Philip Schiller tweeting a quote from Mandela. CEO Tim Cook also tweeted a quote, and offered thoughts on the passing of Mandela as well:
" What counts in life is not the mere fact that we have lived. It is what difference we have made to the lives of others….." Mandela 2002

— Tim Cook (@tim_cook) December 6, 2013
Amazing human being. Champion of freedom and human dignity. He set an example for all of the world. RIP Nelson Mandela. We miss you already.

— Tim Cook (@tim_cook) December 6, 2013
"Let freedom reign. The sun never set on so glorious a human achievement." His Excellancy Nelson Mandela, 1918 – 2013 #NelsonMandela

— Philip Schiller (@pschiller) December 6, 2013
Nelson Mandela was afflicted with numerous health issues in the recent years and was receiving intensive medical care at home for a lung infection after he spent three months in hospital.