Apple has released the 5th beta of the iOS 7.1 firmware this afternoon with a build number of 11D5145e. You can download iOS 7.1 beta 5 over-the-air (OTA) or via Apple's developer center.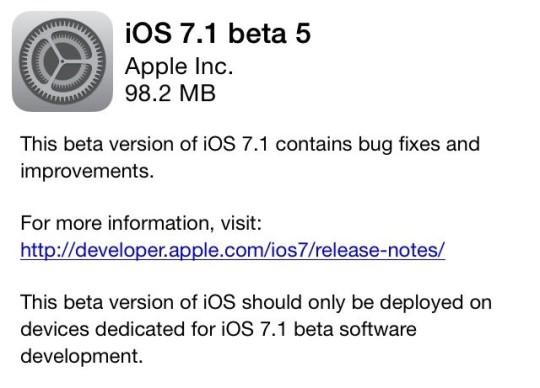 The beta is available for the iPhone 5s, iPhone 5c, iPhone 5, iPhone 4S, iPhone 4, iPad Air, iPad mini, iPad 4, iPad 3, iPad 2 and iPad mini and the 5th generation iPod Touch.
Here are the direct download links for iOS 7.1 beta, but keep in mind you must be logged into the official Apple developer center.
iPad:
iPad Air (Model A1474)
iPad Wi-Fi + Cellular (model for ATT)
iPhone:
iPhone 5c (Model A1507, A1516, A1526, A1529)
iPod touch:
So what about changes brought about in iOS 7.1 beta 5?
So far new natural-sounding Siri voices for English (Australia), English (United Kingdom), Japanese, and Chinese (Mandarin – China) have been reported and even redesigned Caps Lock and Shift keys (via MacRumors).

Apple also renamed the option to disable the parallax effect in wallpapers as "Perspective Zoom" instead of "Motion."
On the Jailbreaking front there is some more disappointing news. According to hacker iH8Sn0w Apple has patched a vulnerability in chown that was used by Evasi0n7 to gain access to a filesystem path that is otherwise locked down.
Apple fixed the chown vuln that appeared in iOS 7 (http://t.co/65wfTkCKML) and used by evasi0n7 by checking to see if its a symlink again :P

— iH8sn0w (@iH8sn0w) February 4, 2014
… and their solution was to use lchown. :P

— iH8sn0w (@iH8sn0w) February 4, 2014

As such it is safe to say that it will be back to the drawing board for the iOS 7.1 Jailbreak. In fact we may not see another untethered Jailbreak released until iOS 8.