Another great quarter for Apple! The fruit company announced their Q2 2014 Earnings Report earlier today and the numbers are amazing. In a Press Release, the company reported a total revenue of $45.6 billion with a net profit of $10.2 billion.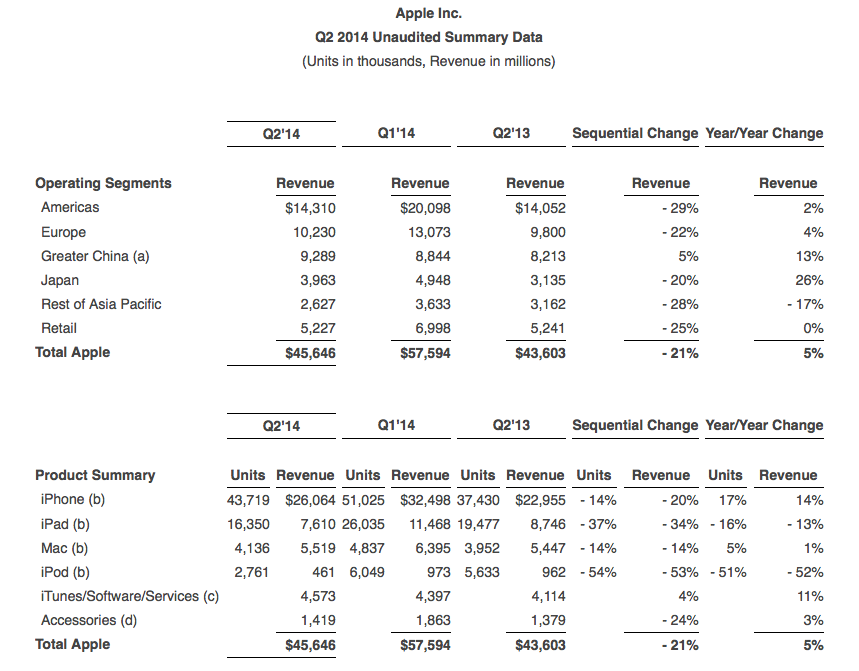 Apple beat all analyst expectations and had a record March quarter with strong iPhone sales. This also happened to be their best non-holiday quarter yet. The company managed to sell 43.7 million iPhones, 16.35 million iPads, 4.1 million Macs and 2.76 million iPods. That's not all. Tim Cook, Apple's CEO stated:
"We're very proud of our quarterly results, especially our strong iPhone sales and record revenue from services. We're eagerly looking forward to introducing more new products and services that only Apple could bring to market."
Apple is also going to increase its share repurchase plan from $60 billion to $90 billion and also start a 7-1 stock split starting June 9th. Apart from these, here are some other noteworthy points from the Earnings Call:
They've acquired 24 companies in the last 18 months and plan to acquire more.
The company is one of the biggest dividend payers in the world.
The iPad alone managed to create 4 times the mobile web traffic compared to all other Android tablets.
Strong iPhone sales helped Apple achieve record quarter.
The iPad has a 95 percent stake of the education market and customer satisfaction rate among iPad owners is 98 percent.
Every 2 in 3 prospective customer planning to buy a tablet in the next 90 days would buy the iPad.
800 million iTunes accounts with iTunes stores making $5.2 billion in sales.
The App Store has seen over 80 billion app downloads
Last we checked, 87 percent of all iOS devices are on iOS 7 or higher
So, there you go! Another great quarter for Apple, thanks to all the iPhone sales. Looks like both the iPhone 5s and iPhone 5c sold well. Former Burberry CEO Angela Ahrendts will be joining Apple starting next week, as Chief of Retail. CEO Tim Cook also mentioned that the company has many products in the pipeline for 2014, but aren't ready for release just yet. That sounds good!
What do you think Apple has in store for us this year?