Apple yesterday announced the financial results for Q3 2014 in which they boasted a net revenue of $37.4 billion. The fiscal ended on June 28th with a net profit of $7.7 billion. The company managed to sell 35.2 million iPhones, 13.2 million iPads and 4.4 million Macs.
In the previous quarter, Apple made $45.6 billion in total revenue with a net profit of $10.2 billion. That's a lot more than what they managed this quarter. One of the reasons for this is that Apple's product change cycle is getting closer. iPad sales also fell short of Apple's expectation of 14.4 million units. iPhone sales, despite rumors about iPhone 6, managed a record third quarter.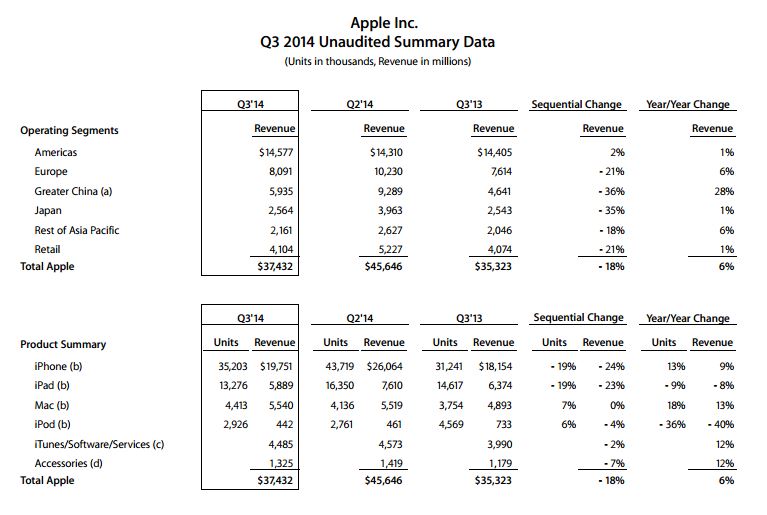 In a Press Release, Apple's CEO Tim Cook wrote:
Our record June quarter revenue was fueled by strong sales of iPhone and Mac and the continued growth of revenue from the Apple ecosystem, driving our highest EPS growth rate in seven quarters. We are incredibly excited about the upcoming releases of iOS 8 and OS X Yosemite, as well as other new products and services that we can't wait to introduce.
And, Luca Maestri, Apple's CFO stated:
We generated $10.3 billion in cash flow from operations and returned over $8 billion in cash to shareholders through dividends and share repurchases during the June quarter. We have now taken action on over $74 billion of our $130 billion capital return program with six quarters remaining to its completion.
Here are some other things we learnt from yesterdays Earnings call:
Apple has made 29 acquisitions since the start of 2013 and major Beats acquisition should be completed in the next quarter.
They have $164.5 billion in cash and marketable securities out of which $137.7 billion is held offshore.
The App Store has crossed 75 billion app downloads and $20 billion has been paid to developers so far.
This year's WWDC keynote was watched by over 20 million people.
iPhone has 97 percent customer satisfaction rate, iPad around 50 percent.
50 percent of new smartphone customers plan on buying the iPhone, 63 percent of new tablet customers plan on buying the iPad.
Apple is said to announce new iPhones and iPads later this year. Hopefully, that will catapult sales and revenue.