It looks like Apple has had a very good start to the year 2014. The Cupertino company announced, in a Press Release, the financial results for Q1 of 2014. Apple had a very good year end, thanks to amazing sales of the iPhone 5s and the new iPads, which were released just in time for the holiday season. The company broke all records and posted a net revenue of $57.6 billion in Q1 2014, which ended December 28th, 2013.
Apple sold 51 million iPhones, breaking all previous quarterly records and managed a net profit of $13.1 billion. The company also sold 26 million iPads and 4.8 million Macs. Compared to Q1 2013, where Apple managed to sell 47.8 million iPhones, 22.9 million iPads and 4.1 million Macs, the company did much better. Tim Cook, Apple's CEO stated:
We are really happy with our record iPhone and iPad sales, the strong performance of our Mac products and the continued growth of iTunes, Software and Services. We love having the most satisfied, loyal and engaged customers, and are continuing to invest heavily in our future to make their experiences with our products and services even better.
Apple has excelled in selling every product, except the iPod, which hasn't been doing very well. The sales of the mp3 player has been declining slowly from 13 million in Q1 2013 to just 6 million in Q1 2014. What does Apple have in store for the product that started it all?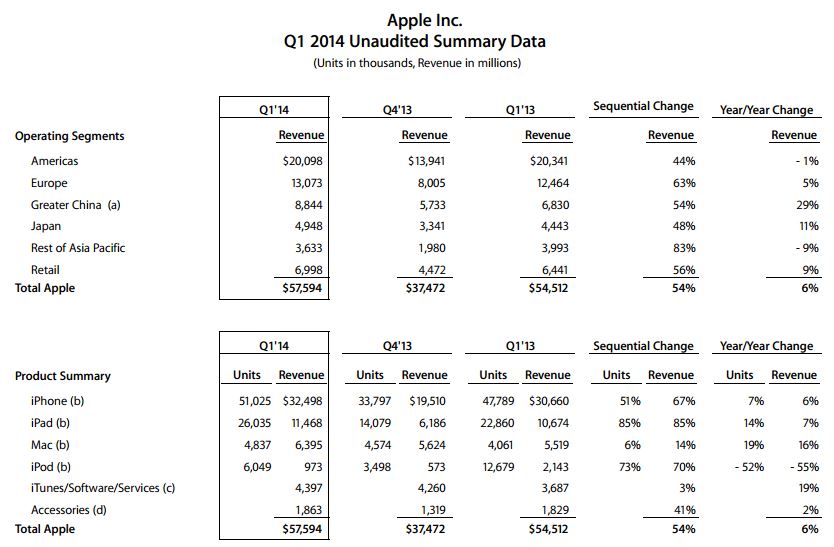 Everything else looks good for Apple, they've sold more iPhones, iPads and Macs than before and they're hoping to have a good 2nd quarter as well. The company is projecting a revenue between $42 billion and $44 billion for Q2 2014. We are not really expecting anything new from Apple before Q3, but you never know what the company has in store for us. Maybe the much rumored iWatch? Or something else? We'll have to wait some more to find out.