Following the recent posting of a new apology in U.K newspapers, Apple has now updated its apology on the U.K website. The new apology is partially visible on the bottom of the homepage with a link to the complete post.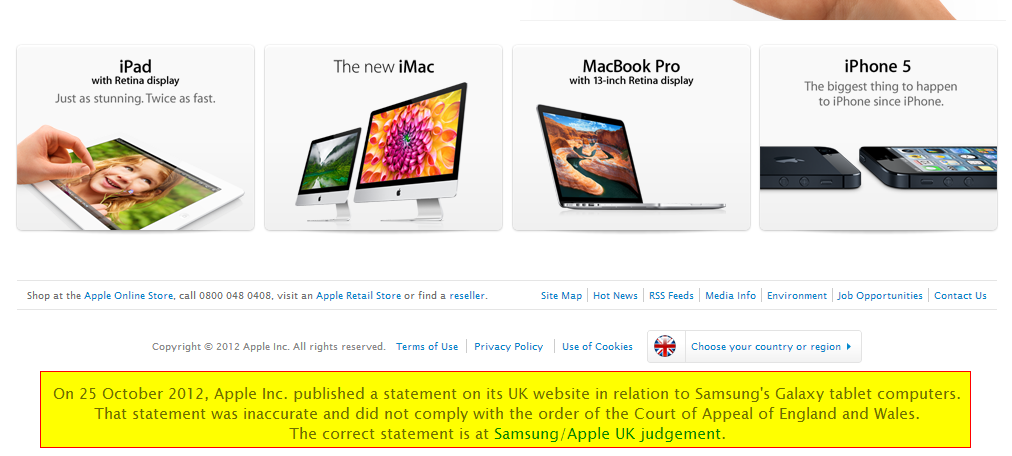 The U.K court asked Apple to rewrite their apology to Samsung, because it was found to be 'non-compliant'. Apparently, Apple's apology was too true and accurate that it sounded more like a tease. Apple apologized to Samsung in a very funny way stating that the Galaxy Tab didn't copy the iPad's design because 'it's not as cool'.
Here's Apple's new apology to Samsung:
On 9 July 2012 the High Court of Justice of England and Wales ruled that Samsung Electronic(UK) Limited's Galaxy Tablet Computers, namely the Galaxy Tab 10.1, Tab 8.9 and Tab 7.7 do notinfringe Apple's Community registered design No. 0000181607-0001. A copy of the full judgment of the High Court is available from www.bailii.org/ew/cases/EWHC/Patents/2012/1882.html.

That Judgment has effect throughout the European Union and was upheld by the Court of Appeal of England and Wales on 18 October 2012. A copy of the Court of Appeal's judgment is available from www.bailii.org/ew/cases/EWCA/Civ/2012/1339.html. There is no injunction in respect of the Community registered design in force anywhere in Europe.
Very boring and not as cool as the previous one. Apple started running the updated Ad in U.K newspapers yesterday, similar to the one updated on the U.K website.