Apple has announced its 3rd quarter results for 2014 today in a press release and it actually beat Wall Street's estimates, but who knows what is going to happen to the Fruit Company's stock price. Now let's get into the juicy details shall we?
Apple sold 31.2 million iPhones, which is actually a record for the June quarter, 14.6 million iPads and  3.8 million Macs.
Tim Cook was pleased with how the company did and said "We are especially proud of our record June quarter iPhone sales of over 31 million and the strong growth in revenue from iTunes, Software and Services. We are really excited about the upcoming releases of iOS 7 and OS X Mavericks, and we are laser-focused and working hard on some amazing new products that we will introduce in the fall and across 2014."
As for the actual financial numbers Apple posted a quartely revenue of $35.3 billion and quarterly net profit of $6.9 billion. As for the Gross Margin it was 36.9 percent compared to 42.8 percent in the year-ago quarter.
"We generated $7.8 billion in cash flow from operations during the quarter and are pleased to have returned $18.8 billion in cash to shareholders through dividends and share repurchases," said Peter Oppenheimer, Apple's CFO.
TechCrunch has done an awesome job at condensing all of the information Apple shared in its press release and financial earnings call into graphs. Check them out below: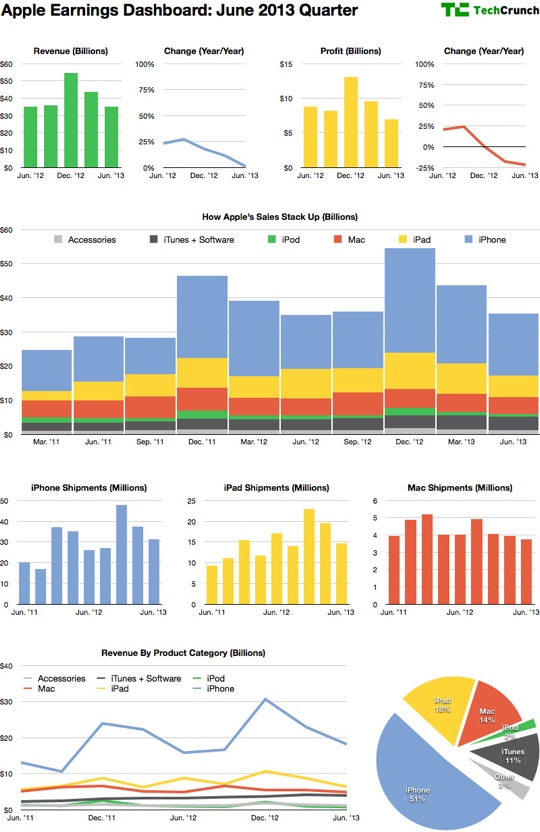 Despite Q3 being a flat quarter for Apple in terms of revenue growth the Fruit Company did considerably well considering there wasn't any major new product announcements in this quarter. What do you think of Apple's Q3 results? Let us know in the comments.