Following the news of the first retail store adopting iBeacon technology and the potential other uses of iBeacon, MacRumors has reported that Apple will be launching iBeacon tech in its 254 U.S. retail stores today.
In order to bring support with this new technology Apple has quietly launched an over-the-air update to its Apple Store app to support communicating with the new iBeacon receivers in retail locations.
The Apple Store app now also gives examples of what notifications can be pushed to the devices of in-store customers through the use of iBeacons, such as messages about picking up online orders and store events.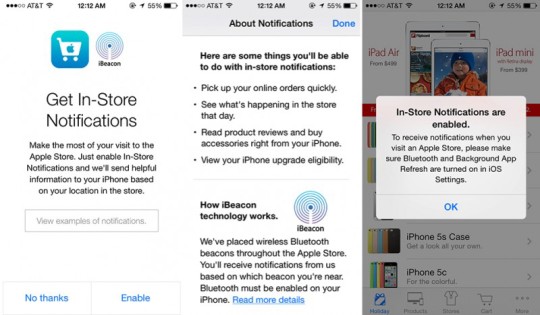 Reportedly Apple gave a demonstration of its new iBeacon system to the Associated Press in its Fifth Avenue store this week prior to its official rollout today:
The company demonstrated the technology to The Associated Press this week at its busy, 24-hour Fifth Avenue store in New York City. At this particular store, Apple has installed about 20 iBeacon transmitters, some of which are simply iPhones and iPads, which come with the capability as part of the iOS 7 mobile software released in September. The transmitters use Bluetooth wireless technology to sense your exact location. That's not possible with GPS, which don't work well indoors and aren't good at distinguishing between locations that are just a few feet apart.
iBeacon is compatible with the iPhone 4S or later, iPad (3rd generation) or later, iPad mini or later, and the iPod Touch (5th generation) or later running iOS 7 and above.
You can download the Apple Store app if you haven't already by clicking here for the iPhone version and here for the iPad version.