Yesterday we reported on a fix for those users experiencing troubles with iMessage on iOS 7. Although it was rumored that Apple would fix iMessage woes in iOS 7.0.3, it wasn't officially confirmed… until now.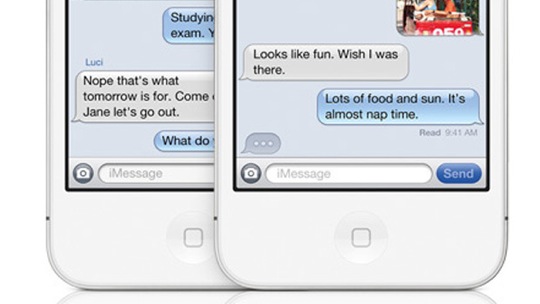 Apple has just given word to The Wall Street Journal that the Fruit Company is aware there is a problem with iMessage in iOS 7 and they are currently working on a new firmware with a patch for this issue.
We are aware of an issue that affects a fraction of a percent of our iMessage users, and we will have a fix available in an upcoming software update," Apple said in a statement. "In the meantime, we encourage any users having problems to reference our troubleshooting documents or contact AppleCare to help resolve their issue. We apologize for any inconvenience this causes impacted users.
One of the easiest ways to fix iMessage issues on iOS 7 before the new firmware is released is to very simply restart your device. But if that doesn't work then you will likely need to follow these steps:
Step 1) – The first thing you will ned to do is launch the Settings app and going into the Messages section to disable iMessage.
Step 2) – Next go into the General section, followed by reset, and reset your device's Network Settings.
Step 3) – Finally re-enable iMessage.
iOS 7 has only been available for two weeks at the time of writing this article and is already installed on 200 million devices. As such it isn't surprising that Apple is calling it one of the "fastest software upgrades in history."
This isn't to say iOS 7 has been without its bugs though. We are already on iOS 7.0.2 only two weeks in, with iOS 7.0.3 expected to be released shortly to address even more issues.