At the Special iPad Mini event in October, Apple announced new and redesigned models of the iMac. These new models are super thin at the sides and thinner than previous versions in the middle. They also come with the latest Intel processors and other hardware improvements. Apple stated that these new iMacs will be available in November and they are now almost here.
In an official Press Release Apple has announced that the new 2012 iMac 21.5-inch will be available starting November 30th on their online Apple Store and authorized Apple Retail stores. The 27-inch, on the other hand, will only be available online and ship in the month of December. The new iMac also features a brand new re-engineered display that is thinner, yet sharper than previous ones. It also has something known as a Fusion Drive, which brings the performance of SSD drives to standard hard drives.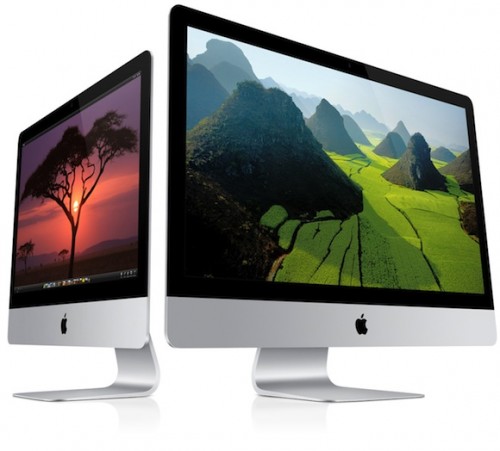 The 2012 21.5-inch iMac can be configured according to your preferences. You can grab a 2.7 GHz quad-core Intel i5 processor with an Nvidia GeForce GT 640M graphics chip, 8GB of DDR3 RAM and 1TB 5400RPM HDD for $1,299. Or you could get one with a 2.9 GHz quad-core Intel i5 processor, Nvidia GeForce GT 650M graphics, 8GB of DDR3 RAM and 1TB 5400RPM HDD with Fusion Drive for $1,499. You can also upgrade to a faster i7 processor and plonk in some more RAM for extra cash.
You can also get the 27-inch iMac in two different configurations. A 2.9 GHz quad-core Intel core i5, Nvidia GeForce GTX 660M will cost you about $1,799 and you can also upgrade that to a 3.2 GHz quad-core Intel Core i5, Nvidia GeForce GTX 675MX for $1,999. Again, the i7 upgrade, more RAM and Storage options are available on the 27-inch iMac as well. The graphics on all systems come with 512MB of RAM however, the high-end 27-inch comes with 1GB of graphics memory. It can also be upgraded to the Nvidia GeForce 680MX with 2GB of GDDR5.
Who's getting a new 2012 iMac this December? Remember, you can buy them starting November 30th.