A new report from Interbrand places Apple Inc in the second spot of the Best Global Brand of 2012. According to the report, Apple rose a whopping 129 percent over the last year to gain the 2nd spot. The fruit company has been growing ever since the announcement of the iPad and the iPhone. 129 percent is a huge growth in just one year, which has placed Apple just below Coca-Cola.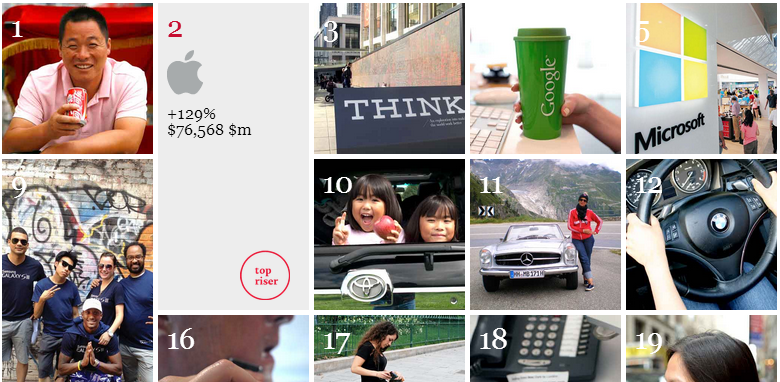 Interbrand stated that Apple is one among the top risers in 2012, who was in the 8th spot last year. Apple is followed by IBM, Google and Microsoft. It's current market value is somewhere around $76, 568 million and that is going to grow once the new iPad Mini is out. Apple's main rival, Samsung is in the 8th spot and has grown 40 percent in the last year.
Despite Steve Jobs' passing, consumers' emotional connection to the Apple brand remains stronger than ever – this was made clear just recently with the launch of iPhone 5. Even in the face of increasing competition from rivals Google and Samsung, the company continues to demonstrate its commitment to protecting the Apple brand and its intellectual property. Such commitment enabled Apple to post quarterly revenue of USD $35 billion and quarterly net profit of $8.8 billion in July.
To see the full list of the top 100 Brands of 2012, go here. Do you think Apple will ever get the No.1 spot? Drop us a line in the comments.