Apple's Market Cap Just Crossed $600 Billion
Wow is Apple's stock on a roll. Just a month after crossing the $500 billion threshold, Apple's stock has just surpassed the $600 billion market this morning.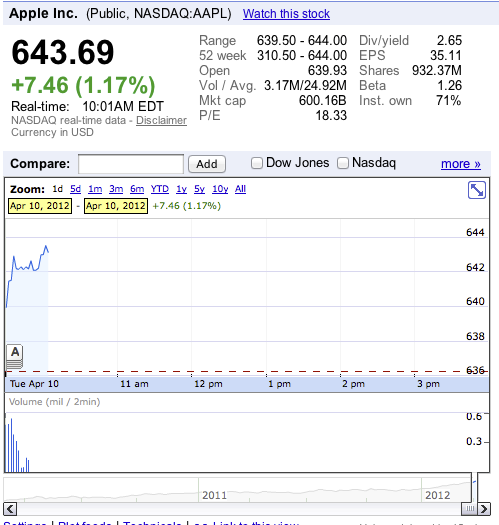 Just to put this number in perspective with some of the other main technology companies, Microsoft is sitting at a cool $250 billion, the number two company, Exxon is sitting at $400 billion and Google sitting at $204 billion. Of all the companies on the stock exchange, Microsoft still holds the record for the highest market cap ever, reaching $619 billion back in 2000. That value would be worth nearly $800 billion today.
April 24th will only help push these numbers higher, when Apple discusses their Q2 2012 numbers.
Do you think Apple's market cap will reach the rumoured 1 trillion any time soon? Tell us your predictions in the comment section bellow.
[Via 9to5mac]
Make sure you stay subscribed through our social media feeds, so that you never miss a beat, by liking us on Facebook, following us on Twitter and joining our circle on Google+.
Hey, you! Join the iJailbreak Insider for weekly newsletters, Jailbreak alerts, contests and more. (No spam, we promise)